One of the most challenging issues that comes with approaching retirement is likely understanding Medicare. There are several types of Medicare plans, including Part A, Part B, Part D, and Medicare Advantage. Even the savviest retirees might find it challenging to determine when to enroll in Medicare and which parts to enroll in. 


Here is a comprehensive guide to help you understand this complex federal health insurance program for Americans who are approaching retirement. Understanding these concepts will enable you to make informed decisions that result in maximum benefits when it comes to your healthcare.
Medicare is a federal health insurance plan that is available to US citizens who are 65 and older, disabled individuals under the age of 65, or those with end-stage renal disease.
What does Medicare Coverage include?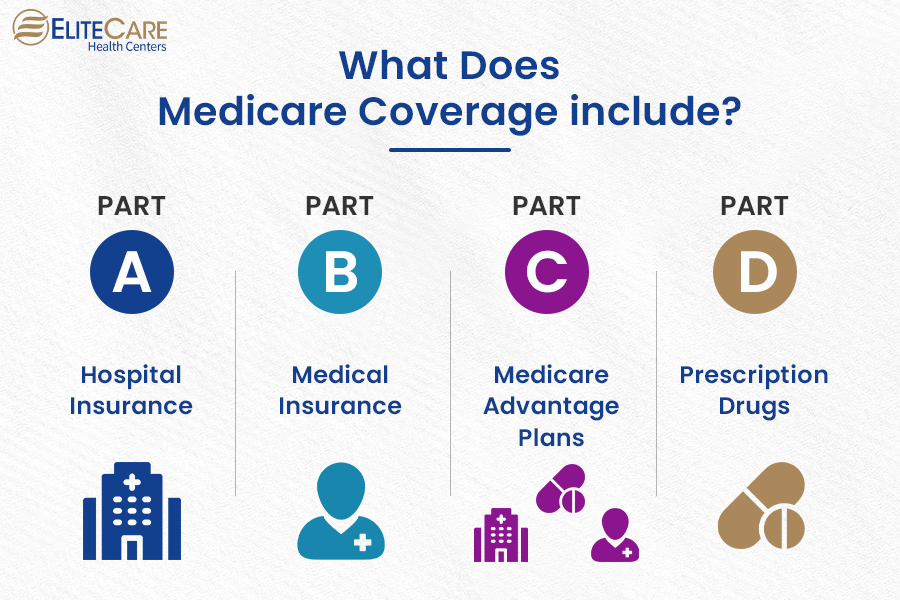 The four components of Medicare are classified into sections called A, B, C, and D. Here is a list of Medicare benefits that they cover.


Part A – It covers hospitalizations and other inpatient care.


Part B – This covers doctor visits, outpatient surgery, lab fees, and medical supplies.


Part C – Part C, often known as Medicare Advantage, is a privatized version of Medicare that is provided by private insurance companies. The advantages of Medicare Parts A and B are combined with extra advantages like prescription medication coverage, dental and vision insurance, and wellness incentives.


Part D – Commercial insurance companies offer Medicare Part D, which pays for prescription drugs. They either offer Medicare Advantage plans, which include prescription drug coverage, or Prescription Drug Plans, which separately offer Part D coverage.
What is the difference between the Medicare & Medicare Advantage Plan?
Eligibility Criteria for Medicare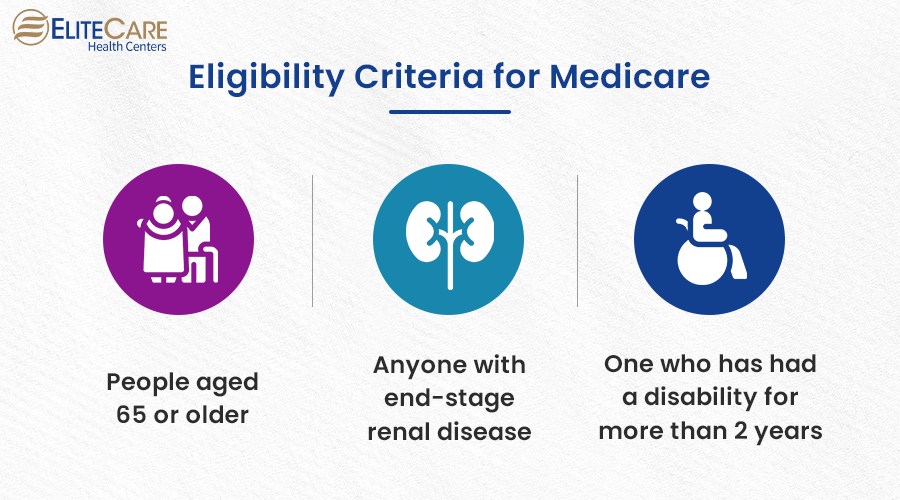 To be eligible for Medicare, an individual must meet certain requirements set forth by the Centers for Medicare and Medicaid Services (CMS). These are listed below:
A person must be 65 or older to enroll.

S/he must be a U.S. citizen

or be a lawful permanent resident for five consecutive years.

If under 65, a person who has had a disability for more than two years or has has been diagnosed with an end-stage renal illness or Lou Gehrig's disease (ESRD)

can enroll.
Medicare Enrollment Periods
Every year, during the open enrollment period, which lasts from October 15 to December 7 and depending upon your requirements, you can choose to do the following:


Switch Part D or

Medicare Advantage

plans for the next year

Choose between

Medicare Advantage

and Original Medicare


Also between January 1 and March 31, Advantage subscribers can opt for the following:  


Change to a new Advantage plan or to basic Medicare

Change to a

Medicare Advantage

or Part D plan outside of the open enrollment period provided it is offered in your area and has a five-star quality rating
How to keep track of Medicare benefits?
Create a myMedicare.gov account if you haven't already. For the purpose of managing your personal data related to Original Medicare benefits and services, MyMedicare is a free and secure online service. Through their MyMedicare account, those with Original Medicare can check their coverage, enrollment status, and claims data. You may easily choose the drug plan that best fits your prescription list by viewing a list of all the prescriptions you've filled throughout the course of the year in your account. This process makes it easier for you to look for clinics and providers covered in your plan. For example, if you want to look for a health clinic in Florida that falls under your coverage, this tool can help quickly get you accurate results. 


To get more detailed information about Medicare or to address any further questions or concerns, we recommend contacting a Medicare professional.