The Medicare Open Enrollment period for 2023 started on October 15, this year. Around 60 million Americans who are beneficiaries need to enroll themselves in the program on or before December 7 to receive Medicare benefits. During this timeframe, current Medicare recipients can also switch their healthcare plans to ensure preventive wellness. The changes for this coverage will be effective from January 1, 2023.  


During the Medicare open enrollment period, beneficiaries can make the following changes: 


Switch from their original Medicare plan to a Medicare Advantage plan and vice versa.

Switch to a new or different insurer within either the original Medicare or Medicare Advantage plan

they are a

lready enrolled in

Switch Medicare Part D prescription drug plan provider.


The 7 changes in Medicare 2023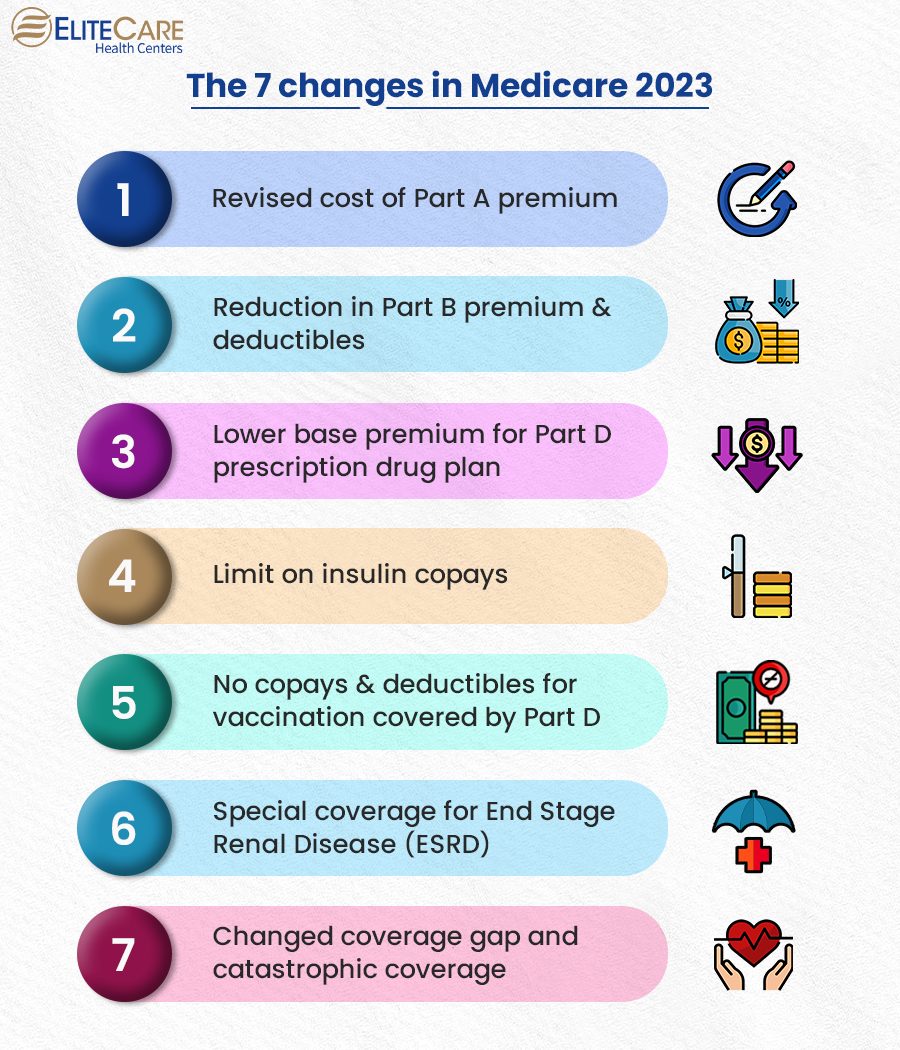 Although Congress recently passed a law allowing Medicare to negotiate some drug prices, the updated rules will not come into effect until 2026. However, there are some key changes for 2023 which are as follows: 
1. Changes in Medicare Part A
Although most people are still eligible for free Part-A, the premium amount has changed. The cost of the premium for 2023 will be either $278 or $506 a month, depending on your coverage. The revised inpatient hospital cost-sharing amounts for 2023 will be as follows: 


Inpatient hospital deductible per benefit period: $1,600

 

Daily coinsurance for days 61-90: $400

 
Daily coinsurance for lifetime reserve days: $800

 

Skilled Nursing Facility coinsurance for days 21-100: $200

 
There is a small reduction in the Part B premium and deductible for the year 2023. In 2023, the standard monthly Part B premium will be $164.90, down from $170.10 in 2022. On the other hand, the annual Part B deductible decreases to $226, down from $233 in 2022. 
The base premium for the Medicare Part D prescription drug plan has also decreased from the previous year. Monthly premium will be reduced to $32.74 from $33.37. However, the Medicare Rights Center has stated that the premiums for specific plans and regions may vary every year and may be higher or lower. Therefore, every beneficiary should carefully examine their Annual Notice of Change (ANOC) to determine how their costs or benefits are changing.  
4. Limit on insulin copays
Insulin copays will be limited to $35 per month for all beneficiaries. This rule will apply to all insulin covered by a beneficiary's Part D plan or under Medicare Part B. 
People with Medicare coverage won't have to pay any copays or deductibles for the vaccines specifically covered by their Part D plan. It includes the shingles vaccine and flu shot which are essential for seniors. In addition, COVID-19 vaccines and boosters will remain free with no copay for every American. So, talk to a primary care specialist and get vaccinated at the earliest. 
6. Coverage for End Stage Renal Disease (ESRD)
Medicare plan for 2023 will provide special benefits for beneficiaries with End Stage Renal Disease (ESRD). According to the previous plan, Medicare benefits would end after 36 months of a kidney transplant. It will be applicable to those who are not eligible for Medicare. Medicare 2023 says that a beneficiary can choose to continue Part B coverage of immunosuppressive drugs by paying a standard monthly premium of $97.10. The addition of this coverage will be of significant benefit to those who need these lifesaving drugs. 
7. Changes in the Coverage Gap and Catastrophic Coverage
In Medicare coverage gaps, beneficiaries are responsible for paying out of pocket for medications once their total drug expenses reach a certain limit. According to the revised rule, Medicare beneficiaries will enter the coverage gap once their total drug costs reach $4,660, which was $4,430 previously. Once a beneficiary enters the coverage gap, they will receive a 75% discount on generic drugs. 
In addition, once the beneficiaries spend enough money out of pocket while in the coverage gap, they may qualify for "catastrophic coverage." Catastrophic coverage ensures that the beneficiary will have to pay significantly lower copayments or coinsurance for covered drugs. According to the revised plan for 2023, beneficiaries will reach catastrophic coverage after paying $7,400 out-of-pocket for prescription drugs, up from $7,050 previously. 
Read More: All about finding a Medicare doctor 
It is important for seniors as well as their caregivers to be aware of the changes in Medicare plans so they can choose their plan wisely. Otherwise, it can lead to unnecessary additional expenses. Consult professional insurance providers to get a detailed insight into Medicare plans in 2023 – in order to make an informed decision. For any concerns or queries, contact EliteCare Health Centers. one of the best primary care service providers in Florida.