Wellness is all about consistently practicing those healthy habits that keep you not just living but thriving. Developing healthy habits leads to great health and wellness. When we talk about health, we tend to overlook wellness as a concept and what it can do for us.
Wellness refers to a balanced mind, a healthy body, and a peaceful spirit. Wellness brings us joy. Science says that joy, in turn, boosts your immune system, reduces pain and stress in your body, and enhances your longevity.

For EliteCare Primary Care Patients, Wellness Care Services are complimentary.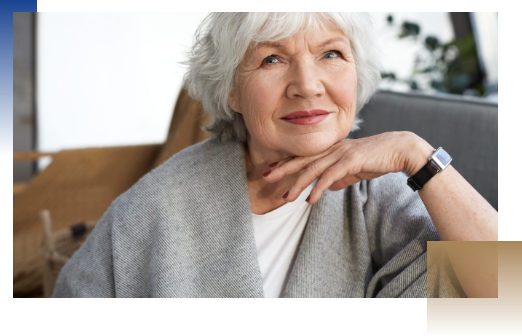 Why is it important for seniors to get routine manicures?
A steady hand can be an issue for the elderly. Cutting nails, filing or applying nail polish can often be a challenge. Getting a manicure from a professional will ensure safe and professional care for your hands. As we age our skin lacks moisture. Our manicurist will nourish the skin by massaging the hands with a moisturizing cream to bring your skin back to life. The hand massage helps relax the hand muscles, improves blood circulation and mobility of joints.
What does our Wellness Manicure include?
Though one can choose to do a DIY manicure at home, we suggest you leave it to the pros. Our professional manicurist at EliteCare has extensive training, experience, and tools to ensure that your nails look great and that you feel awesome. Our professionals follow a step-by-step procedure, ensuring that your nails not only look pretty, but that they're clean and clear from any bacteria. The following are the steps to a perfect manicure.

Nail Cutting
Your manicurist may not always trim your nails. This step depends on your current and desired nail length. During the manicure, your nails will be cut then filed to your desired shape and length. We can always recommend the best nail shape that flatters you! With that being said, short, well-kept nails are always best. Short nails are less likely to harbor dirt and bacteria, which can otherwise lead to infections.

Nail Filing and Shaping
This step is important for the aesthetic appearance of your nails. Your manicurists will gently shape the edges of your nails with a nail file. This will be done per your preference. Some different shapes we can make your nails are round, oval or square, or whatever you prefer. If you are unsure about what will look good, our manicurist will help you.

Nail Cuticle Care
The cuticle is a thin layer of protective tissue on the nail plate. Although the cuticles don't feel as soft as the rest of your hands, they're still made up mostly of skin, so keeping them moisturized is the key. Cuticles protect nails and need proper care too. A relaxing part of our manicure service includes a rich cream or oil that is applied to the cuticles to moisturize them.

Nail Painting
Painting nails isn't as simple as it appears. It's all about paying attention to the smallest details. Achieving a smooth, evenly dispersed, flawless finish requires the expertise of a true professional. To prevent chipping, the edges of the nails can be further sealed with a top coat for protection.
Benefits of a Professional Manicure
Professional manicures provide significant benefits for your overall health and well-being.
Here is a list of some of the benefits!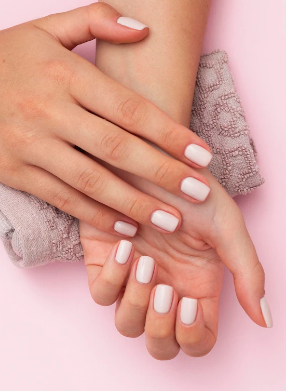 Hand massages boost blood circulation and enhance joint mobility.

Infections are also less likely when fingernails are properly cleaned. Infections of the nail bed which include symptoms such as thickening and discoloration are most common among the older population.

The pampering that comes with a manicure allows you to de-stress, relax and enjoy some "me time".

Bacterial infections and ingrown fingernails can be prevented.

Hands are more exposed to dirt and weather than any other part of the body, except maybe the face. With a manicure, your hands will be smooth and wrinkle-free once grime and dead skin cells are removed.

Getting a manicure can be a fun way to express your personality and experiment with color and nail art trends.

Having your hands and nails groomed by a skilled manicurist achieves a clean and professional look that can be difficult to attain on one's own.
Types of manicures available at EliteCare
Professional manicures provide significant benefits for your overall health and well-being.
Here is a list of some of the benefits!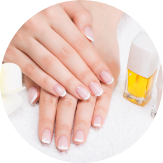 Regular Polish Manicure
With this treatment, your manicurist will trim, shape, buff and file your nails. After that, your cuticles will be pushed back and trimmed. Your hands will then be massaged. The final step is the application of nail polish with the color of your choice. A thin layer of colored nail polish will be applied to your natural nail and finished off with a top coat. Regular polish may stay on for five to seven days.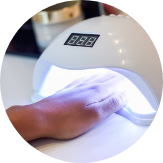 Gel Manicure
A full gel manicure is done similarly to regular polish sets but the nails sit under a UV light, causing the drying process to be instant. The steps are: application of a base coat, nail color, and a topcoat over your natural nails. Each coat will be dried by exposing your nails to UV light for anywhere from 30 seconds to two minutes. As the coat of gel polish will thicken after curing, this paint won't smudge like ordinary nail polish. The result will be nails that have a glossy sheen and a well-kept appearance. Full Gel manicures can last anywhere between ten days to three weeks.
The EliteCare Wellness Manicure Experience
EliteCare Health Centers employees are a team of qualified, experienced, and friendly nail technicians and support staff. All of the products and technology we use are from the most trusted brands in the beauty industry. We have a team of nail care experts dedicated to making nail care as hassle-free as possible.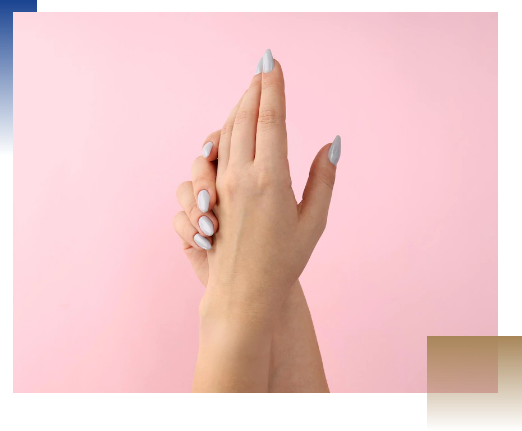 Our commitment to hygiene is non-negotiable.
Moist hands can attract germs that grow in a damp environment. To protect your nails from germs, we always ensure that the equipment to be used, like clippers and nail files, are properly sterilized and disinfected. We maintain a full-fledged cleaning routine for all our reusable tools. After every use, the tools are washed with chemicals to kill bacteria, dried with a towel, and then soaked in a disinfectant.
We make sure you have a good time.
A manicure can be best enjoyed when you have an amicable atmosphere around. At EliteCare, we provide a holistic, feel-good experience that leaves you looking great and feeling great!
The mission of our practice is to deliver personalized, comfortable, individualized, and compassionate health care to our patients.
We offer everyday health, wellness, and dental services. Our preventative care services and chronic disease management help our patients stay safe and healthy. We ensure that all of our patients receive the quality care that they deserve.
What do our patients have to say about us?
"Very nice Doctor and staff. Always takes care of my concerns about my health. I would highly recommend to my friends and anyone else that would listen to me."
"I arrived to a very pleasant waiting room and a friendly front office staff. Just a short wait before being greeted by the MA and going to an exam room. She Completed all the basics professionally and quickly. Saw Dr.Wu soon after to complete my office visit. Love this office and staff!"
"Personal care from everyone, front desk, assistants , nurses, doctors, exceptional. Took time with me, no rushing, all questions answered. Top notch practice"
"Very friendly front desk. Liz is very friendly and helpful. I saw Dr. Lamparelli who was very thorough in reviewing previous labs and took time to answer all my questions."
Make an appointment for a manicure at our Wellness Center near you