Medicare is available to everyone who meets the relevant eligibility requirements, regardless of whether they have worked at a job during their lives. However, they will probably need to pay a lot more for Medicare Part A than someone who has held a job due to not paying Social Security taxes earlier through a job.
Let's first talk about Medicare and its eligibility criteria for better understanding.
Medicare is a health insurance program run by the federal government of the United States, that covers seniors aged 65 and over as well as some younger people who have disabilities or renal failure. Not all medical expenses are covered under Original Medicare. Original Medicare can be replaced by Medicare Advantage programs, or you can choose to keep Original Medicare and buy a Medicare Advantage policy.
Understanding Medicare Coverage Plans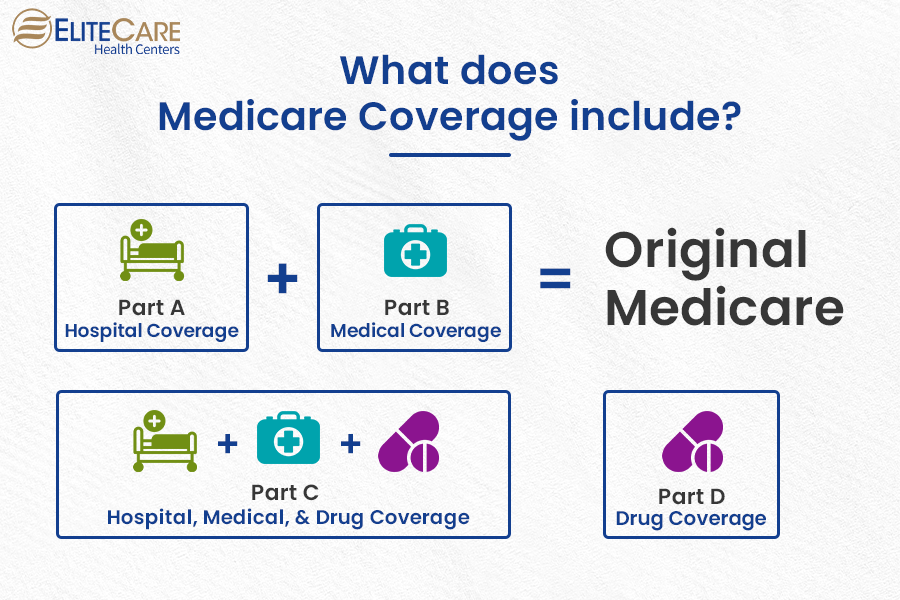 Medicare benefits are divided into four parts named alphabetically: Part A, B, C, and D.
Original Medicare is another name for Parts A and B.
Part A of Medicare covers hospitalization. A hospital or nursing facility stay is covered, but long-term care is not.
Doctor visits are covered by Medicare Part B.  Additionally, it covers both preventative and medically necessary services. Supplies, tests, and other services that are required to identify and treat your medical condition are considered medically necessary services. Health care that is necessary to identify and treat a condition early on is included in preventative services.
Medicare Advantage Plans (Part C)
Part C of Medicare is known as Medicare Advantage, which is a form of private insurance. Enrollment in Medicare Part C is voluntary.  Contracts between the federal government and insurance firms allow these plans to be sold to citizens. A Medicare Advantage plan must include the same benefits as Medicare Part A and Part B, but other benefits (Part C and Part D) may differ from plan to plan.
Medicare Part D (Prescription Drugs)
Prescription drug costs are covered through Medicare Part D, which is offered by private insurers. A monthly premium is paid by participants in Part D. It covers the prescription medicines you purchase regularly from a neighborhood or online pharmacy.
Medicare Eligibility Requirements
You must fulfill specific eligibility standards established by the Centers for Medicare and Medicaid Services in order to sign up for Medicare (CMS). These are as follows :
A person must be 65 years of age or older 

Be a citizen of the U.S. or a permanent legal citizen for 5 years in a row

If under 65 years of age – one who has had a disability since two years or has been given a diagnosis of either Lou Gehrig's disease or end-stage renal disease (ESRD)
Medicare Coverage for People Who Never Worked
Since you pay taxes for Medicare while working, your Medicare Part A coverage is practically paid for during this time. Therefore, if a person has not held a job won't be eligible for premium-free Medicare Part A, which covers inpatient care and hospital stays.
Without a work history, you are still eligible for Part A; however, you will need to pay a monthly payment, just like with any other type of insurance. If you have worked for a while, your premium might be reduced.
For instance, you might qualify for a lower premium if you worked for some years and then put your career on hold to be a stay-at-home parent or for any other reason.
Your Part A premium for 2022 will be $499 if you never had a job. However, if you paid Medicare taxes and worked for at least 30 to 39 quarters, your premium might only be $274. The official government URL interlinked here allows you to calculate your own Part A premiums based on your employment history. 
Your work history has no bearing on the monthly fee for Medicare Part B, which covers outpatient treatment.
Premium-Free Medicare Coverage Scenarios Even If You Didn't Work
There are still several scenarios that could qualify you for premium-free Medicare coverage even if one never worked or didn't work for a long enough time. These conditions include a spouse's employment situation and any medical conditions or disabilities one may have.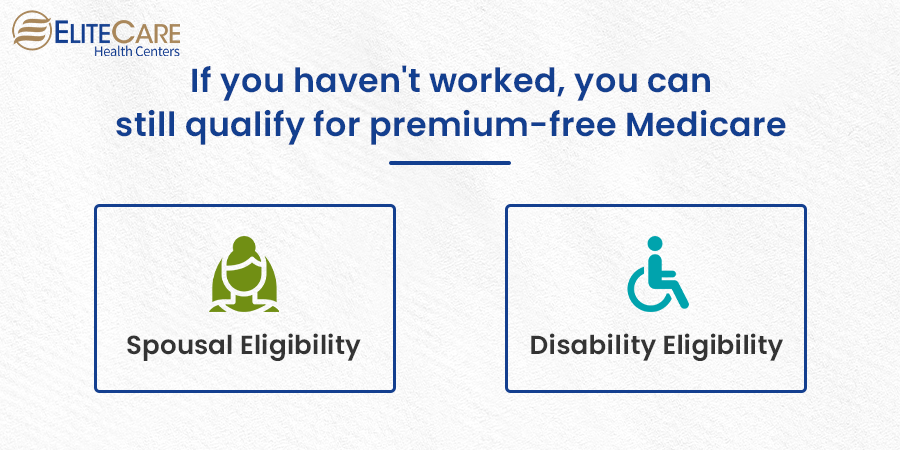 If your spouse worked but you didn't, you should be eligible for Part A without paying a premium through them. This is because the employment history of your spouse also applies to you.
But keep in mind that since Medicare is individual insurance, you are not added to their plan. You'll only be qualified to have your own plan's premiums waived off.
You won't qualify for premium-free Medicare through your spouse if they didn't work continuously and pay Medicare taxes for the entire 40 quarters.
You may qualify for premium-free Medicare regardless of your job history if you have received Social Security or Railroad Retirement Board disability insurance for at least two years.
If you have an end-stage renal illness or Lou Gehrig's disease, generally known as ALS, you'll also qualify. Any of these situations allows you to sign up for Medicare before you turn 65.
Different components of Medicare have different costs, regardless of your employment history. Your Part A costs will change depending on your employment history, which will impact your premiums. For addressing any further doubts or queries or getting detailed information, we recommend getting in touch with a Medicare professional.