Falls in older adults can cause serious injuries or even cause death. According to the CDC, the risk of being hospitalized after a fall is five times greater for older adults. It is critical for family members to take preventive measures against falling to protect the health of aged folks. 
Most older adults are unaware about the fact that regular medicine intake can sometimes cause balance and stability issues. Having a conversation with the doctor and evaluating the health problems can help prevent falls. The doctor may advise reducing some drugs, altering the diet, or performing light exercises.
Factors that increase the risk of falls
Researchers have identified numerous factors that increase the risk of falling. These risk variables can be altered or corrected to reduce the danger of falling. They consist of:
Weaker lower body

Lack of vitamin D 

Having trouble balancing and walking

Poor balance and stability from drugs like antidepressants.

Vision issues

Poor footwear or foot pain

Home dangers/ tripping hazards: sharp edged furniture, ill fitting clothing etc
The following
practices
can help elderly people avoid falls: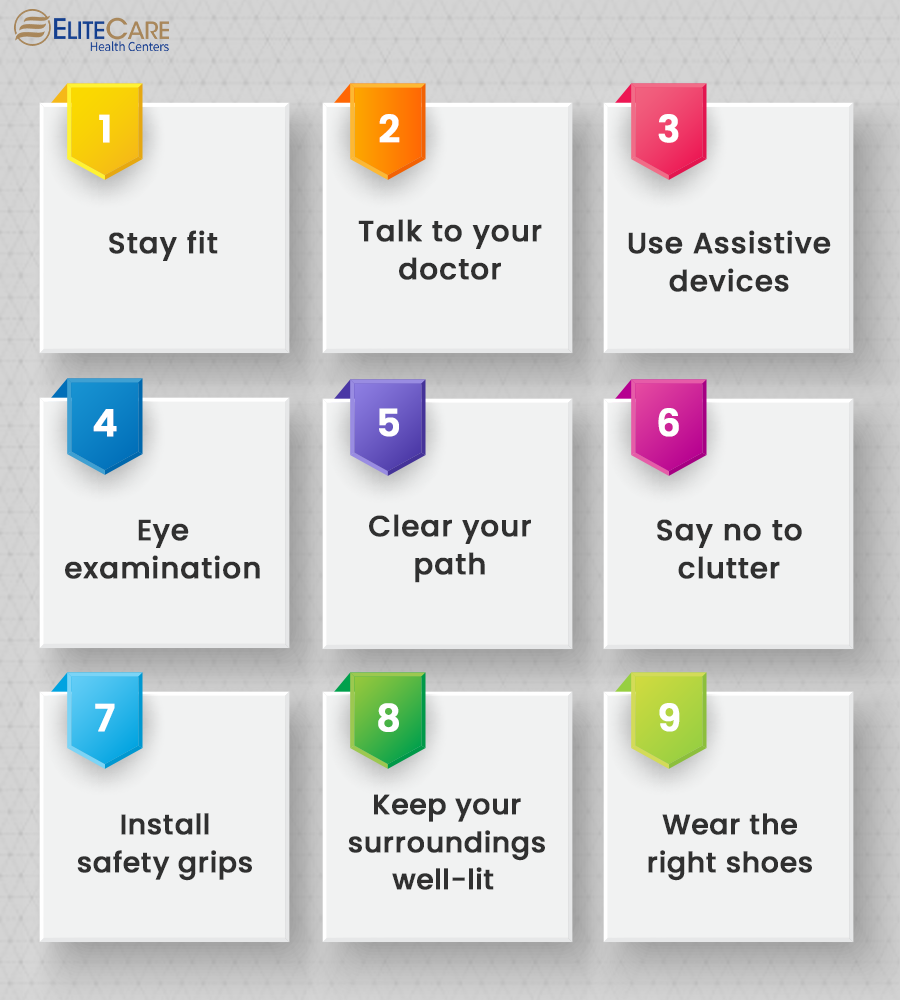 Even senior citizens can increase their muscle mass and level of fitness. To develop balance, endurance, and muscle tone, the CDC advises low-impact strengthening workouts, like tai chi, for improving strength and balance.
Tell your doctor and your family about your worries about falling. They can assist you in developing plans of action to handle your unique demands and vulnerabilities.
Equipment like canes and walkers can help maintain stability and are examples of simple "assistive" gadgets that can help you get around. It is important to discuss which devices are suitable for you with your doctor. Here are a few suggestions:
A tub or shower bench made of plastic (and a hand-held shower nozzle to use if sitting down)

An elevated toilet seat, which is higher than usual

Stair treads that won't slide
A yearly eye exam is recommended. Double-check that your prescription is accurate and speak with your eye doctor about methods to maximize your outdoor vision, possibly with a set of outdoor-only glasses that only have your distance prescription.
Home accessories may occasionally cause falls, which may then result in unwanted accidents. Search every room and hallway for things like loose carpet, throw rugs, or protruding timber floorboards. For better fall prevention, fix, get rid of, or replace those things.
The simplest approach to avoiding falls is to have an orderly home. Reorganize the storage in your home such that the majority of objects are kept at a height between your knees and shoulders. Seek assistance in locating objects that are taller and lower. Get rid of all clutter, particularly from stairways and corridors
If you have limited mobility, you may need safety devices to climb stairs, use the toilet, and enter and exit the bathtub safely. Install grab bars next to the toilet as well as inside and outside your tub or shower. Keep railings on both sides of the stairwell to avoid falling. Seniors are prone to slipping in bathrooms, so installing an anti-slip safety mat helps avoid serious accidents. 
Keep your surroundings well-lit
Make sure your home is well-lit to increase safety. Use night lights in every room, put a lamp near your bed, turn on the lights before walking up or down stairs, keep flashlights all over the house, and think about obtaining lighted light switches.
Not only are supportive, practical shoes better for preventing falls, but they are also easier on the joints. Avoid wearing high heels, floppy shoes, or shoes with slick soles around the house. Also, refrain from wearing socks barefoot. Your footwear needs to be reliable, comfortable, and have non-slip soles.
A quick tip: technological tools are available to assist elderly people who have fallen. Wearable fall detectors, for instance, can be worn as a watch, bracelet, pendant around the neck, or other accessories to detect falls and inform family members and emergency services. Vibrating insoles for shoes, which might help with balance, is another piece of technology that might help reduce falls.
How can EliteCare assist you?
At EliteCare, our patients get the benefit of complimentary wellness services from WellCome OM. The collaboration offers unlimited OM studio fitness classes and programs that can improve balance and well-being. To know more about their offerings, click here.
Additionally, EliteCare is your one-stop shop for primary healthcare, wellness, and dental care services. We offer comprehensive geriatric healthcare and wellness services under one roof.
We have our centers in multiple locations in Florida. Our primary health care clinics are present in Spring Hill, Homosassa, Tarpon Springs, Port Richey, and Sebastian in Florida. Call us at +1 888-596-2090 to schedule an appointment at the center nearest you!