Most people wait until they fall sick to see a doctor. However, having a primary care physician who one can consult with on an ongoing basis, for preventive healthcare and lifestyle maintenance can have a significant and positive impact on a person's long-term health and well-being. 


This can happen only when you invest in your health and partner with a primary care physician who can help in living a healthy life. Medical knowledge and treatment options are on the rise, making it essential to have a generalist explain and advise on the best course of treatment in case of illness.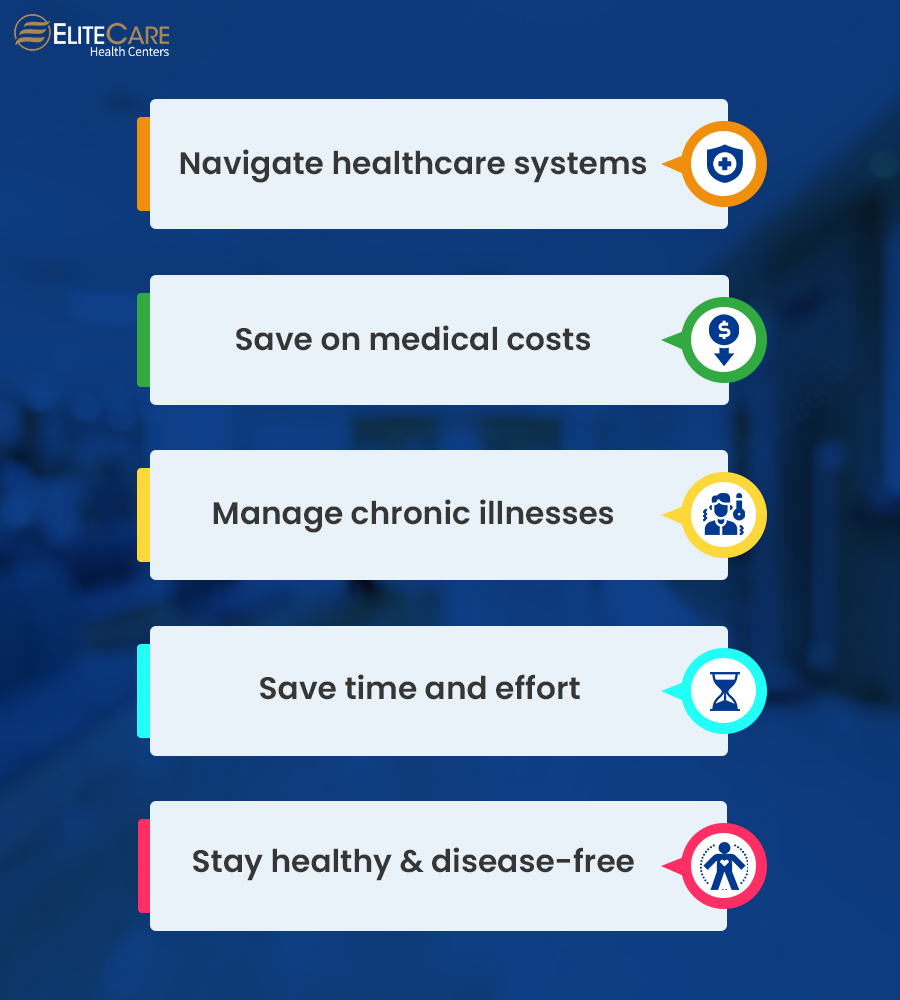 1. PCPs help navigate today's health care system
Healthcare has lately become increasingly specialized, and having a primary care physician can help you get the most out of it. A primary care physician can serve as your medical "home base", keeping track of your health, creating goals, and coordinating care with specialists on your behalf.


A primary care specialist can recommend patients to various specialists and act as a go-between, relieving both patients and their caregivers of the burden of relaying information. When a patient enrolls in primary care, they will be able to see several doctors, undergo lab work, and have confidence that all of their information will be saved in the same system, allowing for continuity of treatment. Primary care physicians, to put it simply, are long-term healthcare partners who are familiar with the unique requirements of their patients of all ages.
Consulting with primary care doctors regularly can eliminate unnecessary trips to specialists, urgent care centers, and emergency rooms which enable people to better manage their medical expenses. 
Having a primary care provider you trust can also help in the maintenance of health and prevent emergencies. Furthermore, many illnesses have early warning indicators that primary care doctors can detect and use to develop a treatment plan to enhance your overall health.
3. Manage chronic illnesses
By helping you manage your medicines, providing educational resources, and suggesting lifestyle changes, your primary care provider can help you manage the burden of chronic conditions. A primary care physician is also equipped to manage your illness based on your medical history, which is crucial if you have multiple health challenges.
Another advantage of primary care doctors is that they save time by taking care of many health issues in a single visit. In many cases, a doctor can perform a checkup, conduct screenings, and administer vaccines – all in one visit.
Any health-related questions can be answered and in some circumstances, treatment prescribed without making an additional appointment making use of the primary care physician's vast amount of experience.
5. Stay healthy & disease-free
Researchers from Stanford University School of Medicine and Harvard Medical School conducted a 10-year study that indicated that having consistent access to primary care was linked to living longer.
Preventive care and chronic illness management are two of the most important advantages of a primary care physician that can enable people to live a longer and better quality of life.
Looking for a primary care provider?
We can assist you in finding the best primary care doctors in Florida. EliteCare Health Centers is a one-stop shop for primary care, wellness care, and dental treatment. We are a primary care center dedicated solely to the needs of the elderly. We have some of the best primary care physicians of Florida on our team. With our qualified and caring staff, you will receive personalized primary care that meets your individual health needs.
Our primary care clinics are conveniently located in five Florida locations: one each in Port Richey, Homosassa, Sebastian, and two clinics in Spring Hill. To make an appointment at the center nearest you, call 1-888-596-2090.