Your primary care specialists is your first point of contact for any healthcare needs. As your health care providers, they provide you with advice about your health and wellness. A primary care physician is more than just a doctor. They are your partners in your health and wellness journey. Since they have an understanding of the complexities of your medical history, drug reactions, health objectives, lifestyle, and treatment preferences.


That's why it's necessary to find a primary care service and primary care physician you can trust – someone with whom you can discuss your health freely and honestly. There is one basic problem. How does one easily  find such an important person? Especially when you search online for the  'best primary doctors near me' and a bewildering number of names pop up ? Worry not – read on and follow our easy pointers.
How to find the best Primary Care Physician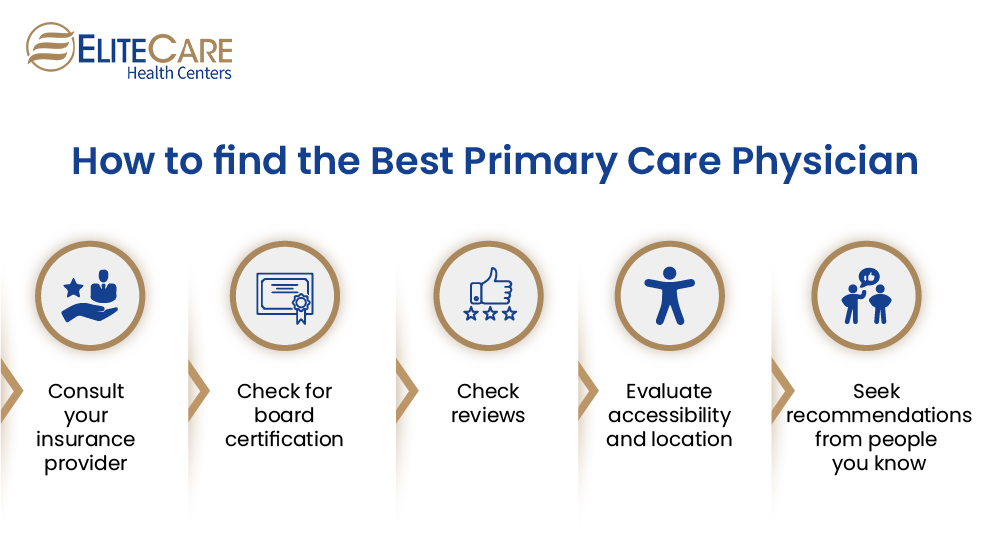 Finding the right provider will entail first defining which type of primary care physician are you looking for along with the practical aspects to consider. Finally, your face-to-face or over-the-phone talk with your shortlisted primary care provider will help you make a decision.
1. Consult your insurance provider
If you have insurance, it's generally a good idea to start by considering which doctors are in your network before learning about a fantastic doctor who may not be available because they're out of network.
Health insurance companies have provider directories that can assist people in finding doctors that are conveniently located and include information about the doctor to help shortlist your options. Starting with that data could help you save a lot of time.
2. Seek recommendations from people you know
Many people prefer to see a doctor who has been suggested by someone they know, such as a family member, co-worker, or acquaintance. Check with your friends and relatives to discover which doctors they consult with. You can also get a reference from anyone you know works in healthcare, such as your pharmacist, or your dentist. If you're relocating, see if your present physician has any recommendations for your new location.
You might also want to look at internet review sites to see what other people say about a particular provider. Look for the web biographies of the doctors that appear at the top of the searches to evaluate who appears to be a good match for you and your requirements.
However, if you read online doctor review sites, keep in mind that the opinions expressed there should be taken with a pinch of salt. Just because a doctor obtains a bad review doesn't mean he or she handled the patient improperly. It's possible that one of many expectations of a patient was not met and the bad review could have been written  because  of that one disappointment.
4. Evaluate accessibility and location
What is the distance between your home or office and the doctor's clinic? What are the hours of operation for the doctor's office? Are there services available in the evenings, weekends, or on-call? How long does it take to get an appointment with a doctor?
What about telemedicine? Does this doctor do online consultations or evaluations? Is there a patient portal where you can schedule appointments, get prescription refills, fill out forms, and contact the clinic?
Take into account all of the aspects that ensure your providers availability.
5. Check if s/he has a board certification
Using the
Certification Matters
tool provided by the American Board of Medical Specialties, you may check whether the doctor you're considering is board certified or not.
Types of Primary Care Physicians
Experts say that when you are looking for a primary care center near me on the web, choose a center that has all the different types of primary care providers on their team. It becomes convenient for a family to have different kind of primary care physicians under one roof.
If you are looking for a health care center with different types of providers under one roof in the US, consider EliteCare Health Centers. You can find us at various locations in Florida. We have some of the most qualified and experienced primary care physicians of Florida on our team.
As your health care needs change throughout your life, you may require to consult one or more of the many types of primary care providers. Check these out in the list below :
Practitioners who work with families. These professionals see patients of all ages, from children to the elderly. They can also perform basic procedures and cover obstetrics and delivery.
Internal Medicine Providers
Internal medicine specialists usually treat adults, but they may also work with  geriatric patients.
They work with children from birth until the age of eighteen.
Obstetricians and Gynecologists
These doctors specialize in women's health, and conduct routine pelvic exams, PAP smears, and offer family planning advice for women.
These providers are internists who specialize in the treatment of the elderly and their associated health conditions.
How do you know if you have chosen the right Primary Care Provider?
Following your first appointment, the American Academy of Family Physicians suggests that you ask yourself the following questions:
Did I feel comfortable with this provider?
Was the provider interested in getting to know me?
Were all my questions answered?
Did he/she explain things to me in a way I understood?
If anything doesn't feel right, go with your gut and find another provider who is a better fit. You should be utmost sure with the provider you choose. The process of finding a primary care physician you trust and feel comfortable with may take some time and effort, but it will be worthwhile in the long run. To consult the best primary care providers in Florida,contact EliteCare Health Centers.