Your annual Medicare wellness visit should be more than a quick visit to the doctor. It is an opportunity you need to make the most of. It's your time to develop a relationship with your doctor and get his help to understand your current health condition. Consider this opportunity as a two-part process: a detailed physical examination followed by a heart-to-heart chat with your doctor. This conversation should enable you to not only understand your health situation but also what can you do to improve or maintain it. 
Make sure to discuss any current symptoms or unusual physical or emotional experiences you're experiencing. Never let awkwardness, or embarrassment stop you from sharing with your doctor about a problem. We've been trained to deal with all of your medical concerns, and you won't be the first patient with a delicate or challenging situation.


By asking detailed questions to your primary care provider or the health and wellness services provider, you will be able to: 


Know everything there is to know about your health.

Recognize the need for any lifestyle changes.

Understand what can be done to invest in long-term health 

Discuss health concerns

Get information about tests and prescriptions


Here are the top eight questions to ask your doctor during your wellness check so that you are able to make the most of your appointment.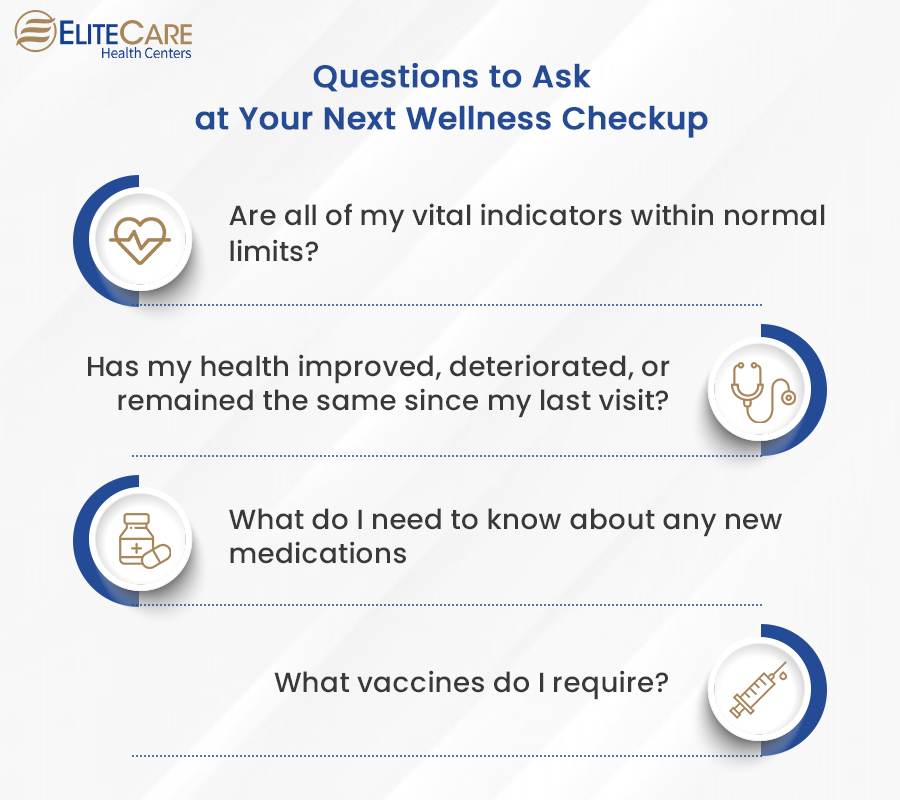 1. Are all of my vital indicators within normal limits?
This is to ensure that all parameters are within acceptable ranges. While receiving regular wellness service, enquire about your body mass index (BMI), pulse rate, blood sugar, and blood pressure. Discuss any other tests ordered by your doctor and their outcomes as well. Understanding these results will assist you in accurately determining your health status.
2. Has my health improved, deteriorated, or remained the same since my last visit?
Discuss the variations between your current and past health reports. This will assist you in making the best decisions for your health care routine. This can also assist you to determine whether or not the routine you've been following since your last health check has been beneficial.
3. What do I need to know about any new medications?
When a new medication is prescribed, ask your doctor about any possible side effects. It is also important to ascertain the daily dosage and the course/duration of the treatment. If you're concerned about the cost of medicines, talk to your doctor about other options.
4. What vaccines do I require?
As you become older, your body undergoes a lot of physical changes, making it difficult to fight illnesses, especially serious ones. As a result, diseases like the flu, pneumonia, and shingles affect the elderly more frequently. Complications from these disorders can lead to long-term illness, hospitalizations, and even death. Based on your lifestyle and other risk factors, your doctor may recommend particular vaccines to reduce your risk.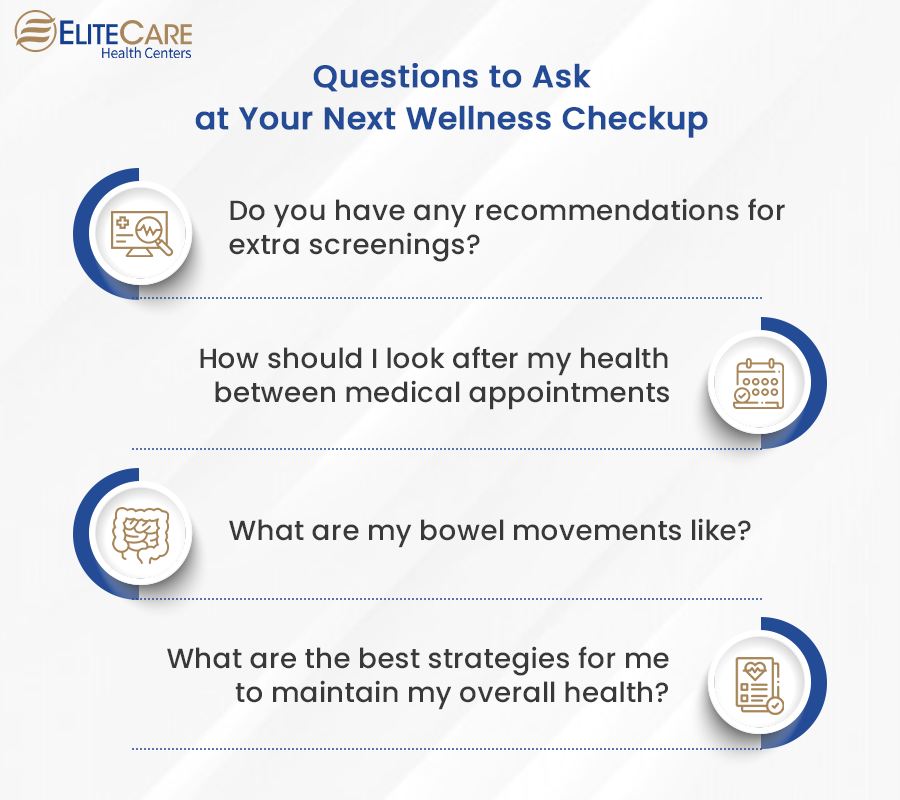 5. Do you have any recommendations for extra screenings?
Your doctor may suggest extra testing based on your age and other risk factors. Breast and cervical cancer screenings may be recommended for women. Men should get screened for prostate cancer. If you have a family history of certain diseases or disorders, tell your doctor because this may increase your risk factors and necessitate extra screenings.
6. How should I look after my health between medical appointments?
Inquire with your doctor about the best health care routine for you. Your doctor may want to see you sooner or more frequently than once a year, depending on your current health or risk factors. Also, ensure you ask what you should doif you suddenly develop an illness. Getting an urgent appointment with your primary care provider may help address the problem and help you avoid a visit to a hospital's emergency room. 
7. What are my bowel movements like?
This may be an odd subject, but if you're having inconsistent or irregular bowel movements, especially if they're painful or include blood, you should ask your physician what to do.
8. What are the best strategies for me to maintain my overall health?
From dietary choices to lifestyle concerns, you and your doctor should talk about what you need to do in your daily life to stay healthy. Your health is influenced by numerous factors. This includes your eating habits, lifestyle, and exercise preferences, among other things. For the best advice, discuss with your doctor.
If you are searching for 'best doctors near me' on the internet, please know that we are one of the best health and wellness centers and our primary care physicians will be happy to answer any questions that you may have.  
Remember that open communication with your healthcare physician is just as important as eating well, exercising regularly, and maintaining a healthy weight. We are always ready to assist you with your inquiries!
To schedule an appointment with our primary care experts call us at 1-888-596-2090.