During a routine annual checkup, or an online doctor consultation, how often do you get bombarded with questions about your health history? Seniors often have trouble remembering their medications and recent diagnoses. Also, they visit multiple doctors for different chronic conditions they suffer from. The amount of medical data can be overwhelming to remember. That is where personal health records come to the rescue. 
 
In addition, a PHR can be a lifesaver during any emergency situation when seniors may be incapable of communication. The health record will be the most reliable source of information for caregivers as well as first responders with all the vital information related to pre-existing diseases, medications, drug allergies, etc.   
What is a Personal Health Record?
A personal health record (PHR) is a physical, or online record developed and maintained by patients to manage their health information in a private, secure, and confidential environment. The basic information that a PHR must contain is as follows:  
Blood type 

 

Allergies 

 

Doctor contact information 

 

Medical history – including details of past illnesses and hospitalizations

Medical information segregated by illness / doctor specialization, etc.

Lab and pathology test reports

 

Family history 

 

Dietary restrictions 

 

Current medications

Emergency Contact

Insurance Details 

 
A personal health record can also hold relevant legal documents such as your power of attorney (POA) or do-not-resuscitate (DNR) order for emergencies.  


Read More: Importance of Healthcare and Wellness   
Why do seniors need personal health records?
Although a personal health record is a must-have for every individual, for seniors it could make the difference between life and death. Here are a few reasons why everyone should keep a PHR.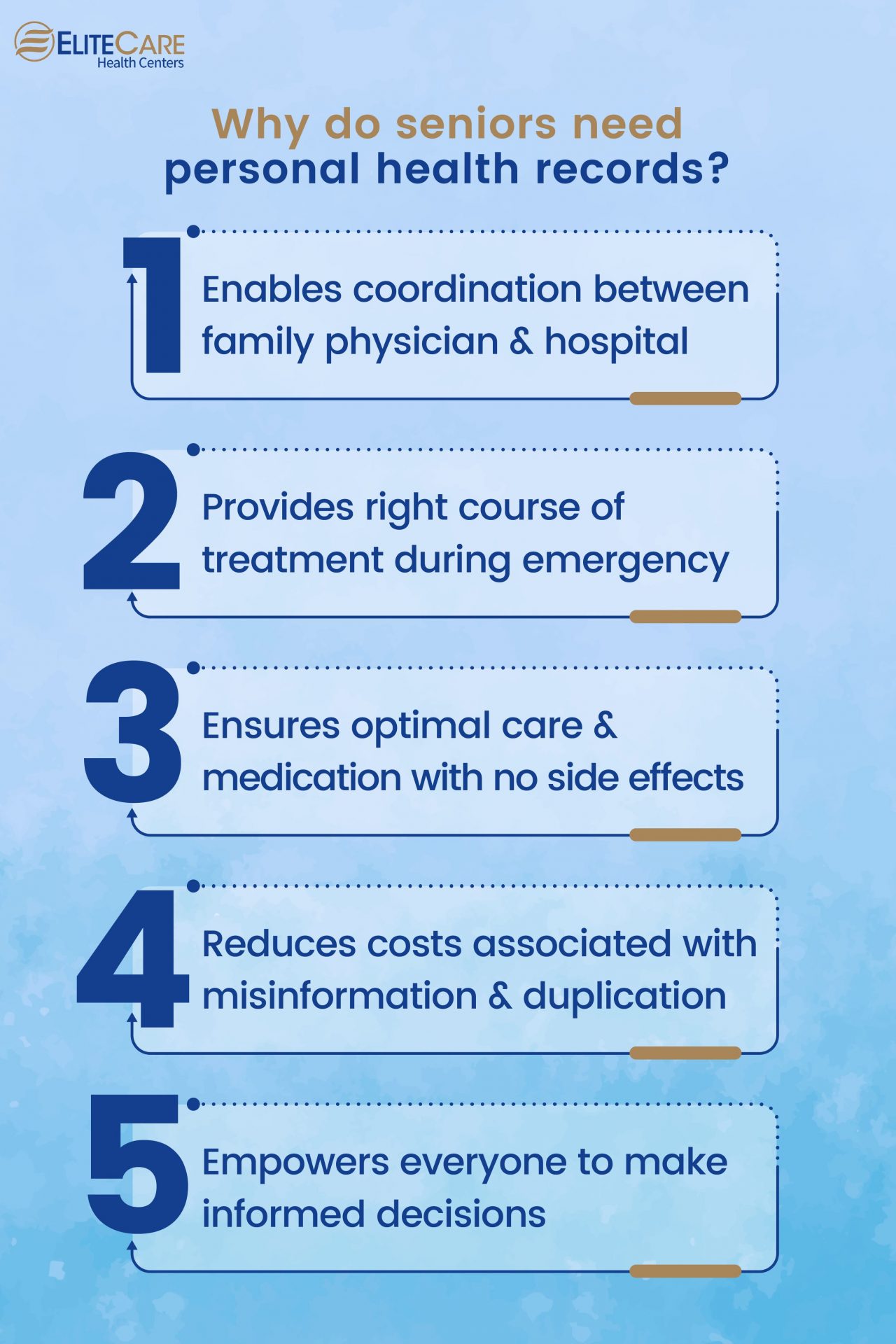 Healthcare has grown increasingly complex and specialized, especially for seniors. In most cases, multiple healthcare experts provide care for a single patient. While providing treatment for an older adult in a hospital, multiple physicians, nurses, and other midlevel clinical providers are usually involved. Most hospitals and senior care services track your care through an electronic medical record (EMR). 
But most family practice physicians do not have access to the same electronic technology as the hospital. Thus, they are more likely to keep their own record of your care. The lack of interoperability between the family practice physician and the hospital is a genuine problem in healthcare. A PHR is the only way to ensure communication and coordination between providers.  
Keeping all medical information in a single, accessible location helps a great deal to provide valuable information to clinicians during an emergency situation. If a patient is in a critical condition and cannot speak for himself, a personal health record enables the healthcare professional to start the treatment process more quickly. They don't have to waste that valuable time doing basic tests. Instead, they can dive straight into the primary treatment if the medical history is available.  
3. Optimal care & medication
Researchers have stated that almost 400,000 Americans die every year as a result of preventable medical errors. Doctors generally lack the information they need to prescribe medications that will cause no side effects.
 
Seniors often take multiple medicines for different chronic conditions. It is dangerous for a senior's health when doctors prescribe new medications without considering other medications the patient is already taking. A PHR provides detailed information regarding pre-existing medication and helps the physicians to proceed with the treatment while exercising caution.


Besides, a PHR also acts as an effective health tracker for seniors. It helps physicians to recognize and detect medical conditions early – based on different test results and details of symptoms shared.
Duplicate or unnecessary procedures are a primary source of wasteful spending in healthcare. A PHR helps doctors access the information they need right away. Therefore, it saves the additional cost associated with re-doing a test.
 
According to the Center for Information Technology Leadership at Partners Healthcare System in Boston, using PHR can save the US healthcare industry between $13 and $21 billion every year by eliminating the need for duplicate tests and administrative expenses.   
A personal health record not only contains information about medical history but also holds relevant legal documents such as a Power of Attorney or a do-not-resuscitate (DNR) order. Hence, it empowers patients to speak for themselves even when their medical condition might not allow them to.   


Also, regularly updating and monitoring the PHR ensures that the patient is well-informed about his medical condition. Patients or their family or caregivers can make vital healthcare decisions for themselves and monitor the accuracy and security of their personal health information.
  
Read More: Top Relaxation Exercise You Can Use Today 
How to use a personal health record? 
There are three steps a senior or their caregiver needs to follow to prepare and maintain a personal health record easily without any professional help. There are 3 steps they need to keep in mind:  
Obtain copies of useful medical information from the online portal of the doctor or the hospital. If you cannot access the details, ask the hospital to provide them. 


 

Keep the information in a personal health record accessible online or offline. The basic low-technology PHR is keeping paper copies in a file folder. But since older adults require doctor visits more often, the volume of offline records can be overwhelming. To solve this issue, caregivers can maintain a digital record on a hard drive.  

 



Share the information in this health record and ensure that no information is missing and everything is up-to-date. 

 



File physical papers in file folders in a chronological fashion. You may wat to create separate files for different conditions by doctor/ specialization.
A personal health record not only helps older adults to get optimal and timely care but also saves them extra hassle and money. A personal health record is a key to ensuring safe medical care for your loved ones. It can reduce the risk of life-threatening medical mishaps significantly and serves as a communication channel between different healthcare providers. Therefore, keeping a personal health record is a necessity to receive proper medical care during emergency as well as annual physical exams. To give your elderly parents optimal medical care, visit the EliteCare Health Centers nearest to your location.