Why do you need an annual physical exam even if you feel healthy? Even though you may believe you are in excellent health, the screenings, tests, and inquiries that are part of a yearly physical examination can uncover hidden health concerns.  
Read More: The Most Common Health Concerns for Seniors – Part 2 
A general physical examination is performed by your primary care physician at least once a year; if certain health conditions are being treated, this may be more frequent. 
What To Expect from An Annual Physical Exam?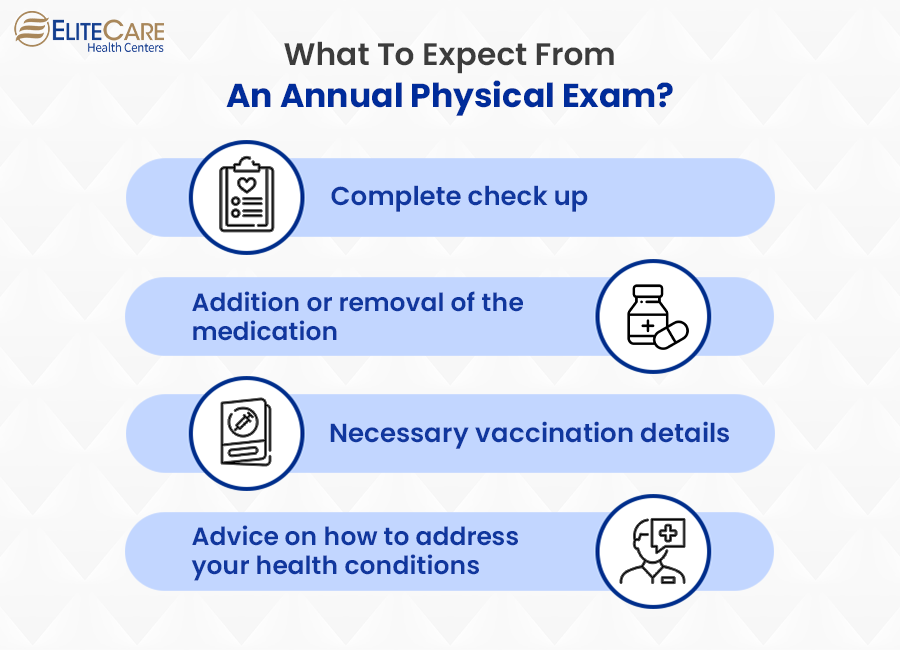 Prior to performing a physical exam, a healthcare professional usually goes through the patient's medical history. This helps them to get a record of the patient's present symptoms as well as any potential risk factors and past health problems. 
In the initial stage of examination, a doctor monitors a plethora of health factors including: 


Blood pressure –

A measure of how much force the blood exerts against your arteries.

 



Cholesterol –

Your blood's levels of cholesterol (both good and bad) are measured.

 



Blood glucose level –

A measurement of how much glucose is present in your blood. Usually, fasting is required to obtain accurate blood glucose readings.

 


Body mass index –

An indicator of your weight concerning your height is your body mass index.

 
Addition or removal of the medication
According to the
CDC
, one in five adults between the ages of 40 and 79 are taking five or more prescription medicines. Combining multiple prescription medications may increase your chance of negative reactions. Therefore, during examinations, doctors review all commonly prescribed medications. Depending on your current health, they may advise you to take more or fewer dosages. 
Necessary vaccination details
Receiving the appropriate vaccinations is a crucial component of your healthcare routine, whether as a child or as an adult. Depending on your existing health issues, you could need additional vaccines. At your yearly physical check-up, your doctor checks your vaccination history to determine whether you can benefit from any immunizations or if any are overdue. 
Advice on how to address your health conditions
The doctors provide you with medical recommendations to handle your health problem and stop it from getting worse once the full session is over. They might even call you for routine checkups if they believe the situation to be significant. 
Elements of an Annual Physical Examination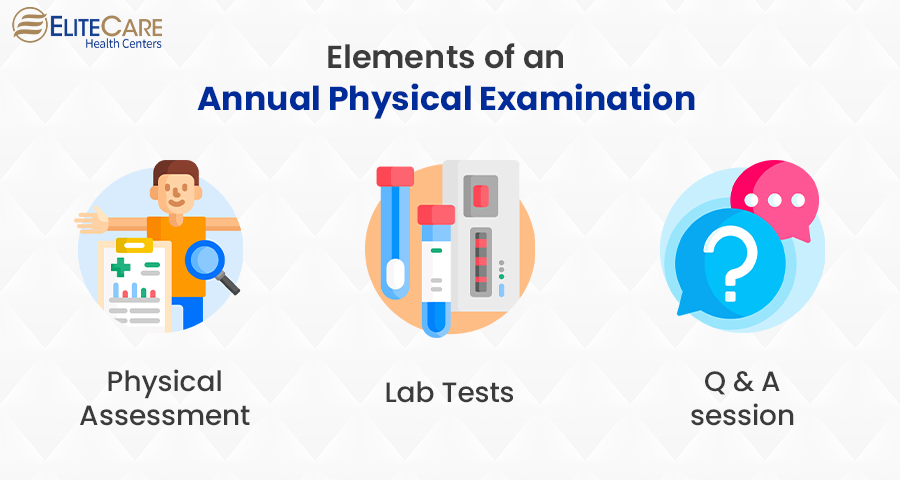 Patients should understand the fundamental components of a physical exam before they proceed with the examination. A thorough physical examination typically involves a complete internal and external body checkup. 
Your physician will inspect your eyes, ears, nose, and throat for abnormalities. Other regions of the body may be inspected if symptoms or medical history suggest that it is necessary. 
In order to get a complete overview of the body's health, your doctor may take samples of your blood, urine and stool for a number of laboratory tests. These tests will provide an overall view and current status of your health and will help to highlight if you are suffering from any issues.  
Question and answer session
Once all the physical assessments are over, your physician will review your medical report which you can follow up with a question-and-answer session. Doctors will advise you regarding your health status and may also prescribe remedies to address the symptoms of any health problems diagnosed in the reports. It's a good idea to prepare in advance with some general questions to wrap up the session effectively. 
Know Your Annual Physical Examiner
Everyone needs to get a yearly physical examination. It can make a significant impact on your health if you know your doctor well and vice versa. 


EliteCare Health Centers is the top healthcare provider in Florida. Primary care, dental care, and wellness services are all offered by us under one roof. If you're looking for the "best annual physical exam near me," schedule an appointment with the top Florida physicians. Call 1-888-596-2090 to reserve your slot right away.