Chronic diseases are responsible for the maximum number of deaths worldwide. A World Health Organization (WHO) report says that 63 percent of all deaths globally are due to chronic diseases which can turn severe with time. 

People belonging to the older age group are more vulnerable and generally suffer from multiple chronic conditions. According to the data released by the Centers for Disease Control and Prevention, approximately 85% of older adults have at least one chronic health condition, and 60% have at least two. When an elderly person is already suffering from diabetes, there is an increased risk of developing heart disease. This is why it's vital to make health a priority. 
The most common chronic diseases older adults suffer from are:
Hypertension

 

High Cholesterol

 

Arthritis

 

Coronary Heart Diseases

 

Diabetes

 

Chronic Kidney Disease

 

Heart Failure

 

Depression

 

Alzheimer's and Dementia

 

Chronic Pulmonary Diseases

 
How to Manage Chronic Diseases in Older Adults?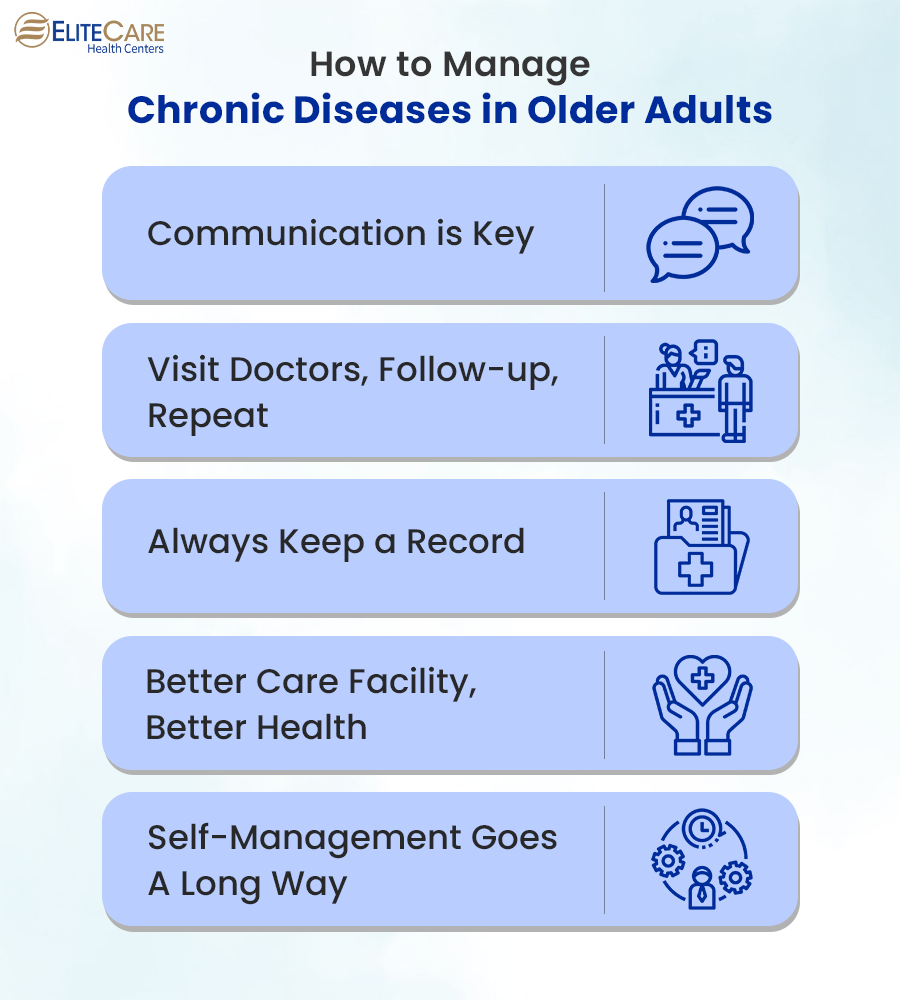 Managing chronic diseases can be challenging when it comes to the elderly. The additional risk of contracting infections becomes higher for which they require special care. Here, we have discussed some of the most effective measures to manage chronic diseases in the elderly efficiently. Let's have a look!  
Communication is crucial whenever someone is dealing with older patients. Identifying conditions and early treatment is specifically important in frail seniors. Both caregivers and doctors need to communicate with the patient closely to understand the issues they are facing. If a health issue is detected early, there are greater chances for improvement. It will ensure correct information is conveyed to the doctors to understand the symptoms better and enable them to take action accordingly. So, listen actively, stay open to questions, and show compassion to achieve care goals.  
Read More: 6 Tips to Help Seniors Maintain a Healthy Lifestyle


Besides, managing chronic diseases for the elderly can get easier if healthcare provider offer all the options and facilities the patient can choose from. Also, both the patient as well as the caregiver need to understand the treatment plan properly. Discuss everything including the evaluation results, possible risks, medications, etc. clearly with the patient and his family. 
2. Visit Doctors, Follow-up, Repeat
Be it diabetes, or pulmonary diseases, chronic conditions require medical check-ups frequently. Senior health clinics are a reliable option to get the elderly treated for their chronic conditions. Older adults suffering from multiple chronic diseases pose more challenges than the others as they require more attention and special care to get better.  
Read More: How can getting regular health checkups keep you healthier? 
Regular visits to the doctor will not only help them to keep their existing conditions in control but also help them to reduce the risk of contracting new diseases. Always keep the doctor's appointments on the priority list.   
It is always more difficult to deal with an older patient suffering from two or more chronic diseases. The complications of one condition can overlap with the other often. Thus, the caregiver or the family needs to keep a detailed record of the medical history. If a medical emergency occurs, then it will help the healthcare professionals understand the patient's condition better.  
Besides, this process also helps in quick diagnosis so the treatment can get started at its earliest. It helps the healthcare professional to understand whether there are any allergies the patient might have from any medications as well. Also, multiple healthcare professionals get involved in the process of treating an elderly patient with multiple chronic conditions. A medical record comes in handy for better coordination among them. 
4. Better Care Facility, Better Health
Due to their compromised immunity, older people are more vulnerable to different viruses, and infections. Therefore, getting such infections can add more complications to their existing chronic diseases. Better care facilities mean providing a hygienic environment for the patient, a good diet, and good sleep. Together, these factors can contribute a great deal to the well-being of older adults suffering from chronic diseases. 
Also, it is crucial to understand the dynamics of the chronic condition to find the best environment for treatment. For example, when it is Alzheimer's or Dementia, dealing patiently with the elderly is crucial. The patient should be in a familiar environment with a reliable and experienced healthcare staff. 
5. Self-Management Goes a Long Way
The most challenging part of providing healthcare services for the elderly is the number of older adults living alone or without a formal caregiver in the US. A significant part of the older population is seeking and receiving treatment for chronic conditions while living in community facilities.  
In many cases, appointing a personal caregiver for 24/7 is impossible. So, self-management of certain chronic illnesses, like diabetes, cholesterol, and hypertension, works as an effective answer. Educating the older population about self-management means guiding them through their condition and medications. This will empower the older adults to be self-dependent and take responsibility for their lifestyle. 
Managing chronic diseases in the elderly requires more of a collaborative approach. The caregiver needs to have patience, be proactive, and pay attention to detail to watch out for symptoms. Timely checkups, screenings, medicine intake, and early treatment can help older adults to lead a happy and healthy life. The key to managing older adults with chronic diseases is empathizing with them. Managing every individual patient is different and requires attention to detail. So, proactive communications and the proper assistance are very fruitful when managing seniors in their fight against chronic diseases.