Aging is an integral part of life that determines how the body operates and reacts to different treatments and medicines with time. Older people might not respond to a medicine or a treatment in the same way the younger ones do. To provide better healthcare for the elderly, it is important to understand what their aging body requires. Here, geriatric doctors come to the rescue. 
Who Is A Geriatric Doctor?
Geriatric doctors, also known as geriatricians, are primary care doctors who specialize in caring for adults aged 65 or above. Their primary focus is to treat elderly patients with complex medical issues.  
Read More: 5 Reasons Why You Need a Primary Care Doctor 
What Does a Geriatric Doctor Do?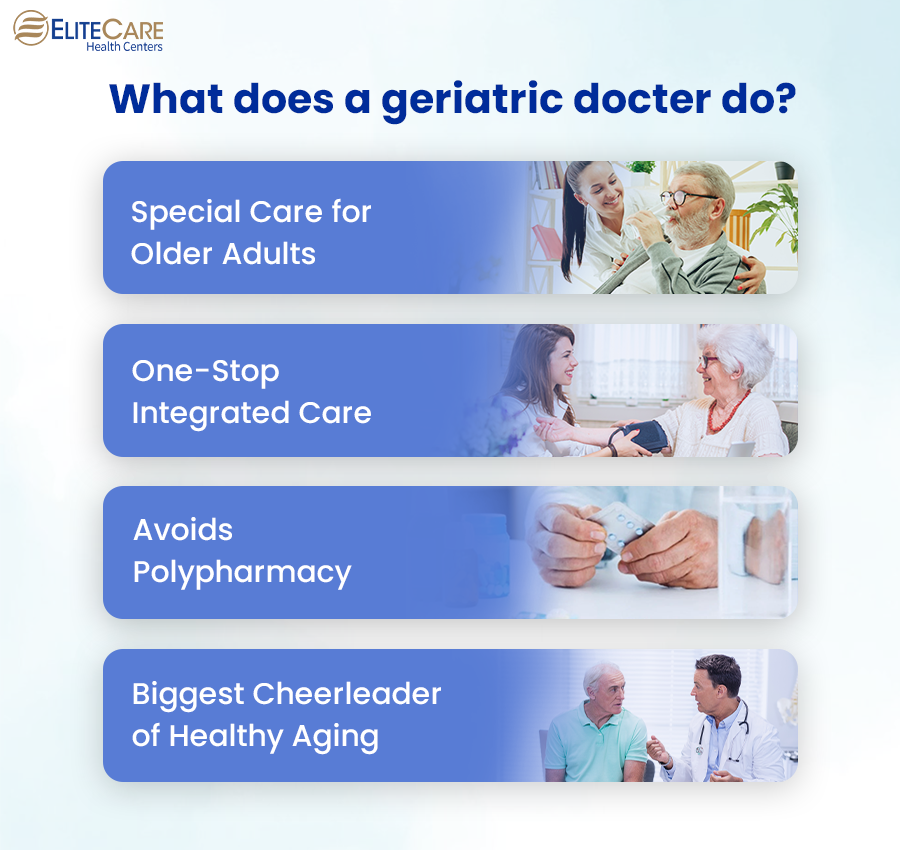 Geriatric doctors are experts in handling multiple age-related illnesses that older adults face. The most significant benefit of going to a geriatrician is their specialized training in preventing, diagnosing, and treating specific medical and health conditions. Here are four ways the geriatric doctor helps. 
1. Special Care for Older Adults
Older adults require special care because of the different chronic conditions they may develop as they age. Multiple diagnoses are common among people aged 65 or above, and they require close medical surveillance. Offering medical help to a young patient with diabetes is far different from treating an elderly with diabetes. They are more vulnerable to medicinal allergies and side effects. To avoid the adverse side effects, a detailed medical history, close attention to detail, and an in-depth understanding of the aging body is crucial. Being specialized in treating older adults, only a geriatric doctor can provide this special care the older patients need. 
Medical conditions geriatric doctors commonly treat are: 
Dementia

 



Osteoporosis

 


Incontinence



Cancer

 



Hearing and vision loss

 



Osteoarthritis

 



Insomnia

 


Diabetes


Depression



Heart failure

 


Frailty



Balance issues

 
2. One-Stop Integrated Care
Geriatricians work as a single point of contact concerning any medical requirement of older adults. If multiple doctors are involved in a patient's treatment, the geriatric nurse practitioner is responsible for managing and coordinating between them.  
Being the primary point of contact, a geriatrician keeps track of complex drug interactions. They also decide which treatment should be the priority for their patients who are dealing with several conditions.
Polypharmacy is a medical term defining the risk of adverse medical outcomes for the regular use of at least five medications. This is a common risk among elders suffering from multiple chronic diseases. A National Council on Aging report says that 80% of older adults have at least one chronic disease while 68% have at least two. This is the reason that many elderly patients are often on multiple medications. Therefore, one medicine can easily affect other aspects of their health and worsen their health condition. 
Geriatricians have special training in understanding older bodies and treating them accordingly. They are uniquely qualified to detect polypharmacy early and fix it.  
4. Biggest Cheerleader of Healthy Aging
Aging comes with its own unique physical, cognitive, emotional, and social challenges. Older adults often find it difficult to manage the transition in their family, work, and living environments. It indirectly affects their medical conditions as well. 
A geriatrician not only treats but educates older adults to stay active, connected, healthy, and manage age-related issues in family life. That's how they foster healthy aging and help the elderly to enjoy their lives. They help their patients to combat negative stereotypes about aging which translates into better health outcomes for patients. 
What Is The Difference Between a Geriatric And a Regular Doctor?
A geriatric doctor is a primary care specialist who specializes in the conditions that are common in seniors.Besides, they are also experts in managing patients suffering from multiple chronic conditions. They understand how older bodies respond to different treatments better than general physicians. Working regularly with elderly patients, geriatric doctors specialize in preventing common debilitating conditions and have extensive knowledge in which treatments are generally more efficient for the older population. 
Appointing a geriatric doctor for the elderly is similar to consulting a pediatrician for children. Certain medical conditions require special treatment and care. There is no one better than a geriatrician to manage the medical requirements of older adults with such ease.