Alzheimer's Disease is a neurodegenerative condition that progressively deteriorates brain function over time and there is no known cure for it. It can begin building plaques in the brain a decade or more before any noticeable symptoms appear. Alzheimer's causes an abnormal build-up of protein which hinders neuron function. When neuron networks break down, the brain shrinks and atrophies. This leads to memory problems and behavioral disturbances. 
In the United States, 6.5 million* people aged 65 or older are suffering from Alzheimer's Disease. As the large baby boomer population ages, these numbers will only continue to rise. Presently, Alzheimer's is the 6th leading cause of death in people over the age of 65 in America. In 2021, Alzheimer's caused more daily deaths than Covid-19.  
Common Changes in Personality & Behavior in Senior Citizens with Alzheimer's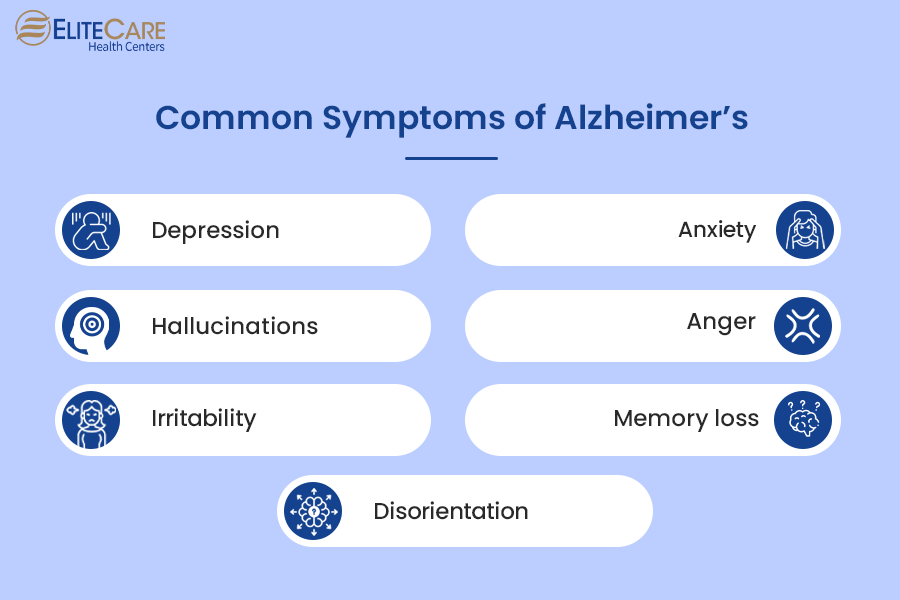 Alzheimer's can seriously impact the wellbeing of senior citizens. These are the common psychological symptoms of the disease:  


Depression

 

Anxiety

Hallucinations

 

Anger.

 

Irritability

 

Memory loss

 

Disorientation

 


Some of the less common symptoms are: 


Restlessness

 

Aggression

 

Poor hygiene

 


 
Read More: Six Ways to Help Seniors Cope with Stress 
4 Ways to Manage Behavioral Problems Associated with Alzheimer's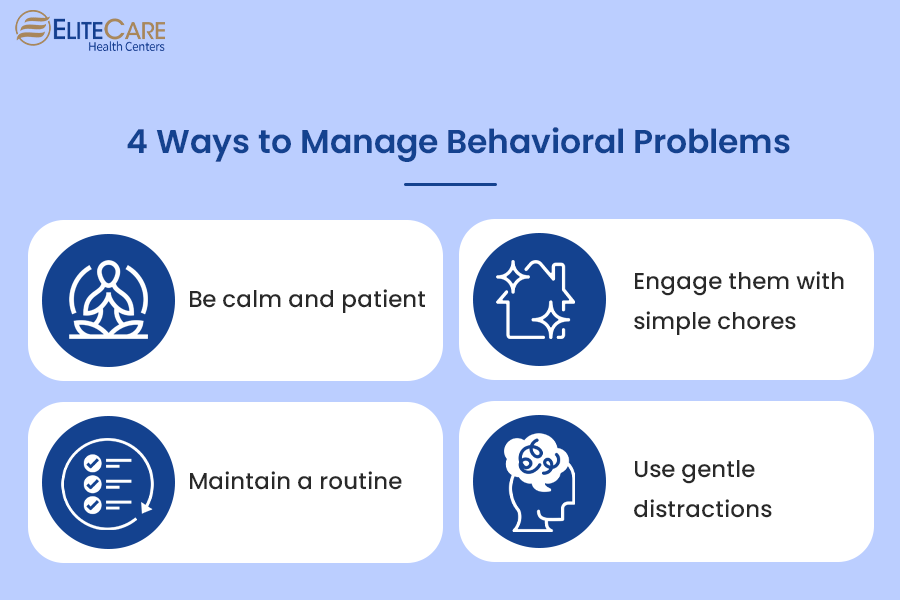 Elderly people suffering from Alzheimer's often struggle with comprehension. They may fail to understand simple requests or fail to respond to them. Caregivers may find themselves becoming frustrated and impatient after their many attempts at communication are met with indifference or confusion, but it is important to remain calm.
 
Instead, it might be more helpful to speak slowly and clearly so that they can process each word and establish the context. It also helps to listen carefully and give them ample time to respond without cutting them off while they are still talking.  
Engage them with simple chores
Asking for assistance with small tasks can make elderly people suffering from Alzheimer's feel normal and included. It also occupies their mind and provides them with a sense of routine which can be quite comforting. When asking for assistance with chores, offer them step-by-step instructions to help them understand the task at hand. Giving visual cues can also help them process things faster. 
Having a routine set for meals, medicines, exercise, chores, and recreation can reduce stress and make each day more predictable. Senior citizens that are forgetful may be able to reorient themselves if they are familiar with their routine. Moreover, eating and sleeping on time resets the circadian clock. This consequently improves their wellbeing which in turn reduces physical and emotional challenges.  
It is difficult to cope when a loved one lashes out due to Alzheimer's. They can often say hurtful things or even become physically violent. It's important to not take these outbursts personally. It is more helpful to focus instead on steering their attention away from feelings of frustration and agitation by distracting them with music or television. Casual conversations as opposed to arguing or reasoning can also help de-escalate an emotionally tense situation. 


Read More: Foods That Help Lower Blood Pressure 


As a caregiver, it's also important to ensure the following: 


Remove rugs, wires or sharp objects to avoid injuries.

 

Identify triggers that set off behavioural problems.

 

Review medications and side effects to ensure that they aren't exacerbating mood problems.

 
Caring for a loved one suffering from Alzheimer's is not easy but they deserve compassion and respect. Being patient and considerate towards the ailing elderly can help them overcome their challenges with ease. 


If your elderly loved one is suffering from any health concerns associated with Alzheimer's, visit EliteCare Health Centers, one of the best Florida Medical Clinics. EliteCare's trained primary care physicians provide services like routine health checkup, venipuncture, EKG and more. Visit this website to schedule an appointment.  
Data provided by The Alzheimer's Association*