Do you think a happy and fulfilling life is possible without either health or wellness? We all know the answer to that question. Our health and well-being are indispensable to our best possible quality of life. 
The state of our health and wellness will always have a bearing on all the other aspects of our life. We tend to take care of things that are important to us. And that's why now is the time to realize how important our health and well-being are for us and take steps to better them every day.
We believe we all have inherited the right to live a healthy, happy, and fulfilling life as human beings, yet we tend to take things for granted  with our bad lifestyle choices, procrastination, and lack of awareness. Taking care of our health and wellbeing is not just a priority that can be postponed or ignored. Health and well-being should ideally be a way of life. We can make this happen by making a conscious commitment toward it.
Prior to recognizing the importance of healthcare and wellness, let us first distinguish between the two.
What is the difference between health and wellness?
As per WHO, health is a state of complete physical, mental and social well-being and not merely the absence of disease or infirmity. The term "health" is derived from the old English word "hal", which means 'whole' or 'unharmed.' 
Let us define the meaning of health in simple terms. Health is a way of life, a practice that one pursues so that our body functions at its peak. When you make healthy lifestyle choices, eat right, exercise well, and sleep tight, your body will have optimum energy. Your body will function in an optimum fashion both mentally and physically. 
Now, let us try and understand the meaning of 'wellness.'  Everywhere we look, the word "wellness" is marketed: in advertising, in periodicals at the grocery aisle, and even on food packaging. Wellness is more than a buzzword or a gimmick, despite the massive marketing dollars used to push it to us. The term "wellness" refers to an attitude that enables us to develop healthy habits on a daily basis to attain better physical and mental health outcomes, so rather than just surviving, you can thrive.
What do health and wellness deliver?
The reasons why health and wellness hold so much importance in anyone's life. Check them out.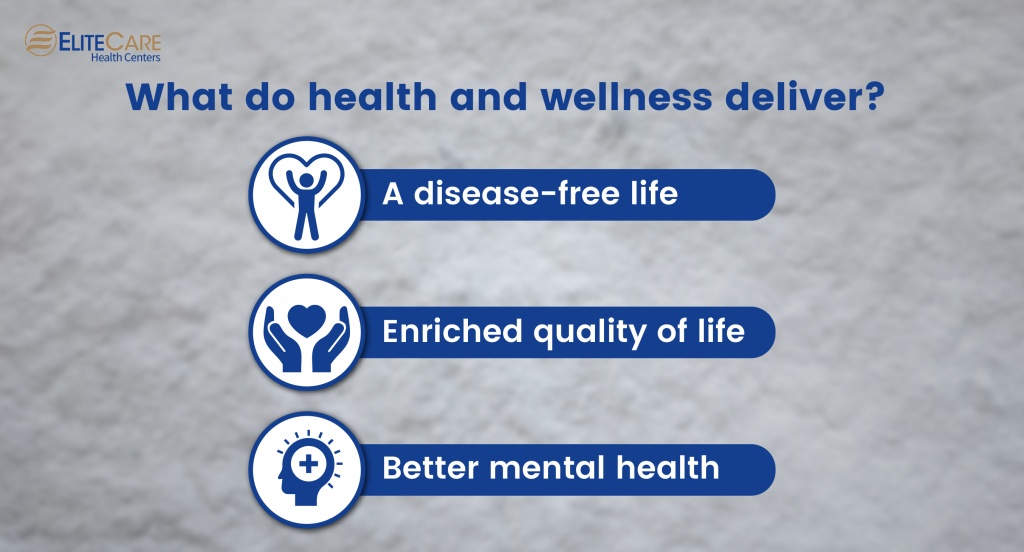 1. To live a disease-free life
Thomas Fuller has rightly said that "Health is not valued until sickness comes." 


One of the greatest blessings that we as humans don't value is having a disease-free body. Don't take your health for granted if you have any illnesses. Focusing on your health goals will boost your productivity and energy levels. Your health goals can be your springboard for every other goal in life. Do not self-medicate and consult a family medicine specialist in case of any queries or concerns. 
2. To enrich the quality of life
The right balance between your mind, body, and heart is what makes you truly well. In order to achieve this balance, looking after your health and wellness is essential. The synergy between mind, body, and heart is euphoria. No materialistic achievement can get you that.
3. For better mental health
Your mental health is fundamental to your physical well-being. This component of your health affects your ability to function psychologically, emotionally, and socially. Our bodies and minds are not separate, so it's not surprising that mental illness can affect our physical health. It is not uncommon for depression to come with headaches, fatigue, and digestive problems, while anxiety can make you feel sick to your stomach. Insomnia, restlessness, and a lack of concentration are some of the other symptoms of depression. 
Therefore, as and when needed, take time to nurture your mental health. Visit a center for wellness care or figure out any activity that can help calm you down. Consider engaging yourself in art, gardening, yoga, journaling, or music, or anything that brings you mental peace.   
How can you get started on your health & wellness routine?
Check out EliteCare Health Centers and find a Center for your everyday health care and wellness care needs.
If you are in Florida and are doing an internet search for a healthcare and wellness center near me you can find the details about EliteCare Health Centers. You can find our centers at five convenient locations in Pasco, Hernando, Citrus, and Indian River Counties. More centers will be opening very soon.  Schedule an appointment with our board-certified primary care physicians by calling us toll-free at 1-888-596-2090.

We are honored to partner with Wellcome Om's Integral Healing & Education Center to offer you complimentary services. See their range of services here. Get yourself the healthy, happy, and blissful life you deserve.