Whenever we get our nails done, we want the effects of the manicure to last as long as possible. It can be difficult to maintain one's hands and nails, given our kind of daily chores, which can affect the appearance and feel of your nails and hands. However, by following a few simple aftercare manicure tips, you can maintain the appearance of your hands and nails and extend the life of your manicure
In addition to choosing "long-lasting nail polish," there are a few other ways for you to easily ensure your manicure maintenance. Follow our simple tips below.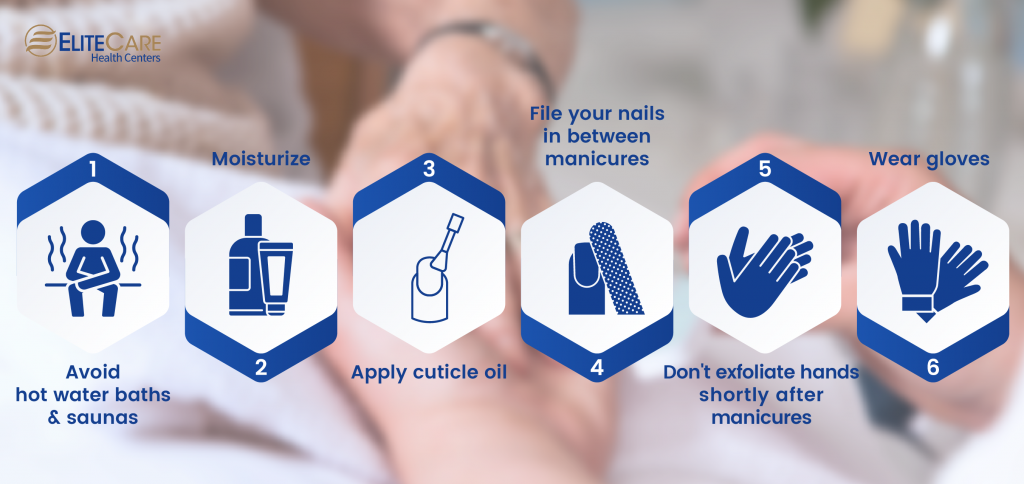 1. Avoid hot water baths and saunas
If you have any form of nail enhancements, try to avoid the excessive use of soap and hot water for at least 24 hours, including long and hot showers. This is because the polish may appear to be dry when you leave the salon, but it is not necessarily set. Remember that products used for nail enhancements have a thicker formula than ordinary polish, so they will take longer to dry.
If you get too much water on your hands after your manicure, the polish may warp or be damaged. It could potentially come off from the nail. Furthermore, the color may fade too soon. For the first 48 hours, avoid hot baths or saunas, as damp heat can weaken the manicure and cause the nail enhancements to peel off. This step is critical because water entering the nail's moist environment might cause bacteria to proliferate.
We all know that hydrating the skin is beneficial at any time. After you have a good manicure, take the time to use a hand lotion that contains glycol, macadamia oil, cocoa butter, and other components. Softer, more moisturized skin ensures manicure maintenance.
Your nail beds will benefit if you keep your hands hydrated and they will not be affected by any dryness caused by the acetone in nail polish removers. Moisturizing your hands will keep your hands soft and supple.
It's one thing to have dry hands, but having dry cuticles is even worse. Maintain the health of your nail beds to keep your manicure appearing fresh for longer. Cuticle oil containing Aloe Vera and Vitamin E can prevent the breaking of nails and keep them healthy.  Cuticles can be kept healthy by massaging cuticle oil into them often. Cuticle oil also aids in moisture retention and promotes the growth of nails.
4. File your nails in between the manicures
Between manicures, it's essential to keep up with nail care. Filing your nails is not just something that's part of a manicure procedure. Filing keeps the nails properly shaped and healthy. One thing to keep in mind when filing is to file nails in one direction so that they do not feather. Additionally, your nail polish will look better and last longer.
5. Don't exfoliate your hands
Exfoliation usually helps in brightening and improving your skin's appearance and quality. However, exfoliating the skin on your hands after a fresh manicure is not recommended as it will strip the moisture from the hands.
Wear gloves whenever performing household chores like cleaning and gardening. Strong chemicals in cleaning solutions, such as bleach, can discolor and damage nails, and digging up the garden can do the same. This tip is not just for the aftercare of manicures. It is an all-time practice to keep your nails healthy and germ-free.
Searching online for 'best manicure near me' for your next appointment?
Check us out!
A range of wellness services, including professional manicures, is now available at EliteCare Health Centers! Basic polish painting or gel polish painting, nail trimming, buffing, filing, cuticle care, nail cleaning, and hand massages are all included in this treatment. Our team is committed to meeting your wellness requirements in a timely and effective manner. Contact us toll-free at 1-888-596-2090 to make an appointment with our licensed and friendly nail technician.