Having a primary care physician is important and beneficial for your health. Check out the benefits below.


Reduced emergency room and hospital visits, 

Complete health history records with time and dates, 

Improved management of chronic illnesses, 

Early diagnosis of potentially serious illnesses, 

Better quality of patient-provider communication


However, one needs to find the right primary care physician. And how do you choose a primary care physician that is best for your needs? Well, we've compiled a checklist of five important factors to keep in mind when you are making your final selection. Check it out below.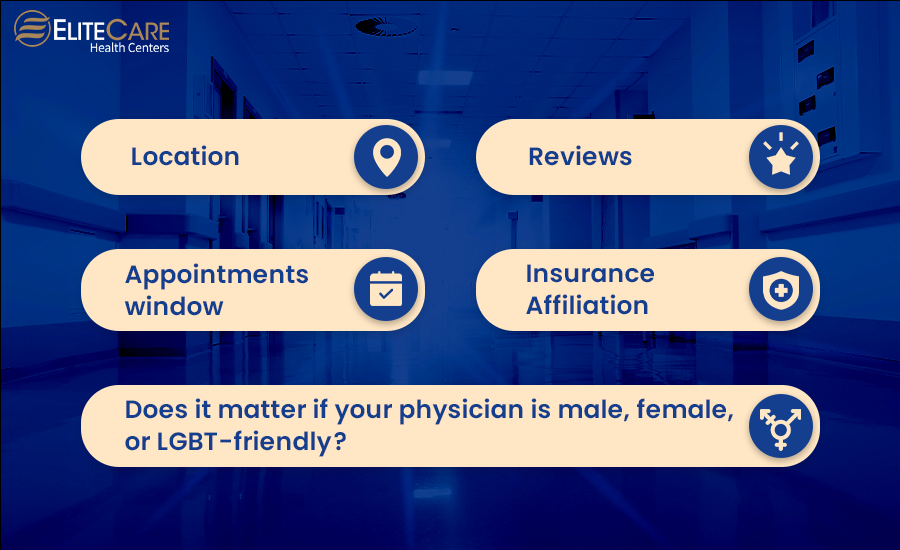 Regular checkups are essential for good health. Finding a physician who is close to your home or business makes scheduling and keeping appointments much easier and more convenient. 


If you can find a provider who is close to your workplace, your appointments would most likely be during your lunch break or immediately after work. In case you have kids, consider finding a doctor who is near your kids' school or your home. Driving a little further to your doctor's clinic may not seem like a big problem, but when you're sick, the last thing you want to do is drive a far distance. Begin your search online using the terms 'best primary care doctors near me' or 'primary care clinic near me'. However, there are other factors to consider as well.
You might also want to check out online review sites to see what other people have to say about a specific provider. Look through the profiles of the doctors who appear near the top of the search results to see if they seem a good fit for you and your needs.
However, keep in mind that the opinions offered on online medical review sites should be taken with a pinch of salt. Just because a doctor gets a bad review doesn't indicate the patient was treated badly. Negative reviews are often made as a result of disappointment due to a multitude of reasons, so try not to place too much weight on a few negative reviews. Read through many reviews and see what the most common comments are to get the best idea.
If you can't schedule or make appointments, it doesn't matter how skilled and kind your PCP  is. Many of us have hectic schedules that necessitate careful planning of work commitments, personal requirements and commute time. Your health issues may get aggravated if you are not able to get a timely appointment with your primary care physician. 
Your health insurance provider negotiates preferential rates for medical services with specific hospitals, doctors, and specialists. When a doctor is "in-network," he or she is part of a group of doctors who have agreed to work together. Some insurance plans cover you if you go to a doctor who isn't in your network, but this isn't always the case. Visit a doctor who accepts your insurance plan whenever feasible. By doing this, you may avoid the hassle of appeals and unexpected, expensive medical bills.
5. Does it matter if your physician is male, female, or LGBT-friendly?
Your health is extremely important and treatment is a personal choice. If you prefer to be treated by a male or female physician, choose accordingly. Anxiety and discomfort might affect your relationships with your primary care provider, making it more difficult for them to detect and manage your medical problems. You can look for someone who is LGBTQ-friendly if that gives you an additional feeling of comfort. The most important thing to remember is that you should always feel comfortable with your primary care physician.
If you are searching online for a 'medical clinic near me' in Florida, we can help!


Our board-certified physicians, backed by a qualified medical staff, provide personalized care and primary services. We have our centers located in multiple locations in Florida, namely Spring hill, Pasco, Sebastian, Tarpon Springs, with a few more opening soon. Call us at 1-888-596-2090 to schedule an appointment at the center nearest you.