What Is Preventative Care?
Preventative healthcare consists of medical interventions that aim to prevent illnesses before they develop. It can prevent chronic diseases, comorbidities and reduced loss of function in older adults thereby enhancing the quality of their health and life. Immunizations and routine screenings maintain good health by safeguarding the body and detecting illnesses at an early stage when it is easier to cure them. It can also help identify potential health risks that are harmless at present but could pose a problem in future.  


In the US, less than half of the adults aged 65 years and above are up-to-date with basic preventative care services despite regular check-ups. Older adults that receive preventative services are more likely to remain healthy and independent as they age.  


According to Doug Shenson, MD, a founder and executive director of the SPARC (Sickness Prevention Achieved through Regional Collaboration) initiative, clinical preventive services are crucial in three stages of disease development: 


Before the disease occurs.

Before the disease is clinically evident.

Before existing illness causes further damage.

 


The risk of developing chronic illnesses increases as we age.  Therefore, older adults need to proactively take certain preventive measures to safeguard themselves.
Preventative Care Services That Are Useful for Older Adults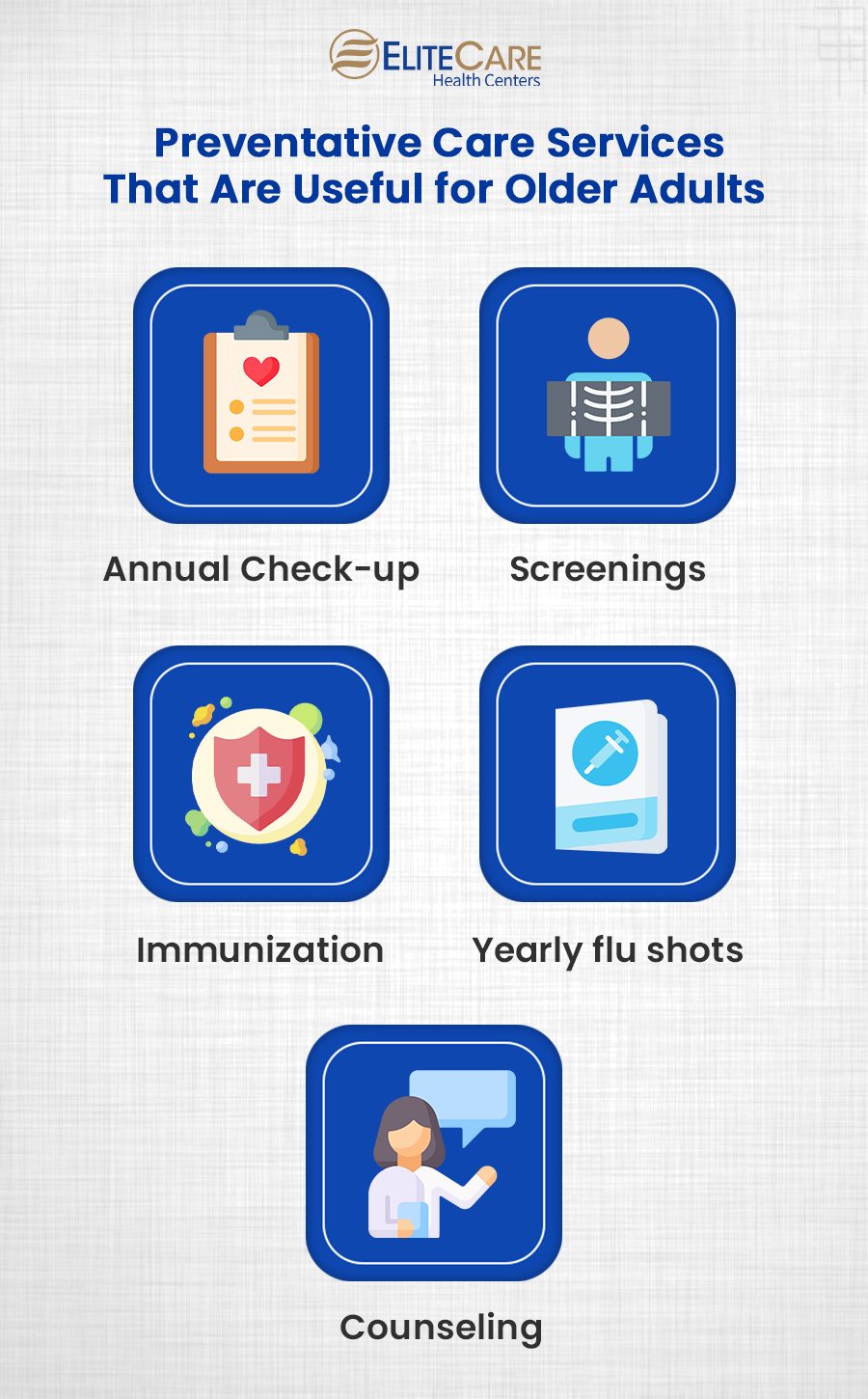 Routine health check-ups can alert people to any underlying issues that may pose harm in future. Physical examination may involve tests for total body fat percentage, blood sugar fasting, CT calcium scoring, thyroid function, lipid-protein tests and more. Tracking blood sugar, blood pressure and cholesterol can help physicians spot warning signs of diabetes, high blood pressure and high cholesterol early on. Additionally, an annual eye check-up and skin exams can help correct vision or detect abnormal growths promptly.  


Read More: What to expect from an annual physical exam
Older adults who are generally healthy but have a family history of certain kinds of illnesses may benefit the most from screenings. Cancers of the breast, cervix, colon and prostate can be life-threatening. Screenings can help detect it at an earlier stage when it is still treatable. Senior citizens with a history of smoking must also get screened for abdominal aortic aneurysms or lung cancer. Screenings can also catch stroke risk early on if one is predisposed to hypertension due to heredity or otherwise. 
 
Read More: Benefits of a screening mammogram 
Older adults tend to have weaker immune systems and take longer to heal from viral infections. Immunizations for vaccine-preventable illnesses and booster shots help safeguard the body for as long as ten years in some cases. Adult immunizations usually involve Tdap vaccines which protect the body against tetanus, diphtheria and pertussis. Additionally, all adults above the age of 65 are recommended to get Pneumococcal conjugate vaccines to prevent pneumococcal diseases and pneumonia. Also, it's crucial for people of all ages, especially seniors above the age of 85 to get COVID vaccines and boosters to avoid adverse and often life-threatening effects of the illness. 
Counseling for Prevention
Quitting cigarettes and other tobacco products can increase life expectancy in seniors above the age of 65. Smoking is deadly; it is associated with an increased risk of cancer and cardiovascular diseases. Similarly, a diet consisting of processed foods and trans-fats diet can develop cardiovascular diseases like coronary heart disease in people of all ages. Poor food habits paired with a sedentary lifestyle can significantly increase mortality in senior citizens. 
Counselling can support older adults in their recovery journey from these lifelong habits. If in need of guidance, one can consult a physician for counselling regarding tobacco use, nutrition and exercise. They can provide tools and regimens that can help make lasting and beneficial lifestyle changes.  
The United States has an aging population. More and more seniors rely of healthcare services to manage various age-related health conditions each year. Utilizing preventative healthcare services can help improve health and reduce healthcare costs. It also helps reduce the burden on the healthcare system as it costs less money to prevent an illness as opposed to curing it.
If you or your elderly loved one needs routine health check-ups or screenings visit the nearest EliteCare clinic or visit this website to schedule an appointment.