Years of research and medical emergencies have proved that prevention is always better than cure. As aging affects the functions of different organs, preventive care becomes more important to help older adults remain healthy. Preventive care not only reduces the chances of health problems but also saves a lot of money that would otherwise be spent on emergency care.  
Do you know what preventive care is? Let's look at the details.  
Preventive care consists of any medical service like screenings or routine check-ups that decreases the risk of medical emergencies. The goal of preventive care is to catch potential health problems in the bud before they turn into serious problems. If the risk factors of the diseases are identified early on through tests and screenings, the cost of the treatment can be considerably reduced.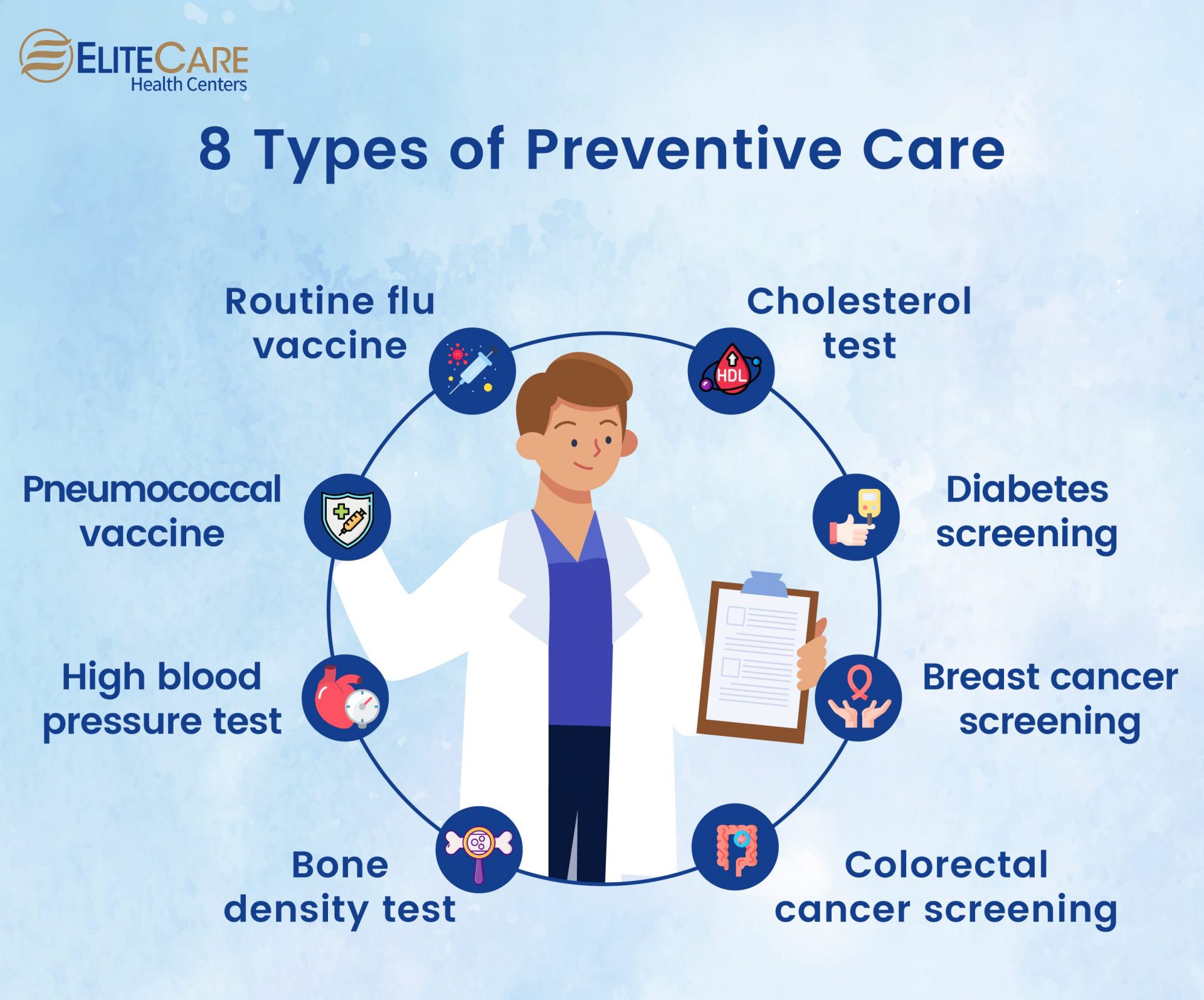 The U.S. Preventive Services Task Force (USPSTF) published a list of
102 recommendations
for preventive care practices with evidence-based results. Listed below are some of the most impactful and universal
preventive care
examples
:
The presence of high cholesterol is a significant risk factor for cardiovascular diseases, which can ultimately lead to heart attacks and strokes. Regular cholesterol tests every 4 to 6 years can reduce the risk of cardiovascular diseases.
   
Doctors can prescribe medication or recommend physical activities if they detect early signs of cardiovascular disease. Older adults with common risk factors such as a family history of high cholesterol levels, diabetes, hypertension, or smoking should get their cholesterol tests done more often. Cholesterol levels are checked via a blood test.  
Older adults are at a higher risk of diabetes and prediabetes. The American Diabetes Association (ADA) recommends a diabetes screening test in a clinical setting every 1-3 years for all adults over 45 years of age. Health problems such as heart, kidney, nerve, and vision loss are associated with diabetes.  


If prediabetes is detected and diagnosed early enough in seniors, they can receive minimally invasive treatment like lifestyle and diet changes and control the diabetes risk factors. Otherwise, they will have to go through more invasive forms of treatment when the situation worsens.  
3. Breast cancer screening
The risk of contracting breast cancer increases as women become older. A mammogram is an effective preventive care screening test that detects the presence of cancerous cells in the body. The earlier breast cancer is detected, the easier the treatment can be started before it develops more complications. The United States Preventive Services Task Force (USPSTF) recommends that women aged 50 and older should get a mammogram screening done every two years.  
4. Colorectal cancer screening
Approximately 60% of colorectal cancer patients are above 70, and this number is continuously growing among the aging male population of America. A colonoscopy can detect early signs of colorectal cancer in the body.   


The American Academy of Family Physicians (AAFP) recommends that seniors should get a screening for colorectal cancer via colonoscopy or fecal immunochemical testing. Discuss with your doctor who will recommend the best testing method for you. Early detection of the disease can result in the successful treatment of colorectal cancer.  
Seniors aged 65 and above are at a higher risk for the flu and its complications. Flu is more harmful for older adults as the immune system weakens with age. Also, older adults are more likely to suffer from other chronic health conditions such as diabetes, which puts them at a significantly higher risk for serious flu-related complications.  

Therefore, older adults should be particular about the flu vaccine and get their flu shots yearly or as regularly as their healthcare provider suggests.  
Pneumonia can be fatal for seniors due to a weakened immune system caused by aging or existing health issues. The Centre for Disease Control and Prevention recommends the administration of the pneumococcal vaccine for all adults aged 65 years and above. Seniors need to get two pneumococcal shots- the pneumococcal conjugate vaccine (PCV13) and the pneumococcal polysaccharide vaccine (PPSV23) to help prevent pneumonia and the complications associated with this disease.  
Read More: Have Older Adults at Home? Here Are 5 Reasons to Get Them Vaccinated 
7. High blood pressure test
High blood pressure or hypertension is a major health problem among older adults because the arteries get stiff and the entire vascular system changes with age. The U.S. Preventive Services Task Force (USPSTF) suggests yearly tests (or as suggested by your health care provider) and screening for adults over the age of 40.  

Read More: Best Foods to Lower Blood Pressure If You Are Above 65 
Bone density means the number of minerals (particularly Calcium and Phosphorous) present in a specific area of the bone. As you get older, bone density decreases, making bones thinner and weaker. Osteoporosis is a disease that entails the loss of bone density and deterioration of the bone structure, leading to an increased risk of fractures that can occur when a person has a fall..   


Osteoporosis affects approximately 10 million Americans every year. Despite its prevalence in older women, osteoporosis can also affect men as they age. A bone density test can help point out the likelihood of osteoporosis in seniors. Screening for the disease can enable treatment before the occurrence of an osteoporotic fracture.  
Preventive care is not only cost-effective in the long run but is also a powerful form of self-care. If you're looking for effective care related to seniors from the best primary doctors in Florida, EliteCare is one of the best centers for primary care and we have some of the best geriatric primary care physicians working on our team. Get personalized care from trained professionals at our center near you. Call +1 888-596-209 to schedule an appointment.