Regardless of your age, you can have healthy, beautiful nails. However, taking care of your nails becomes more challenging  with age due to unsteady hands, lack of flexibility, issues in the joints, and more. 
There are various nail problems that can occur with age due to lack of moisture, poor circulation, etc.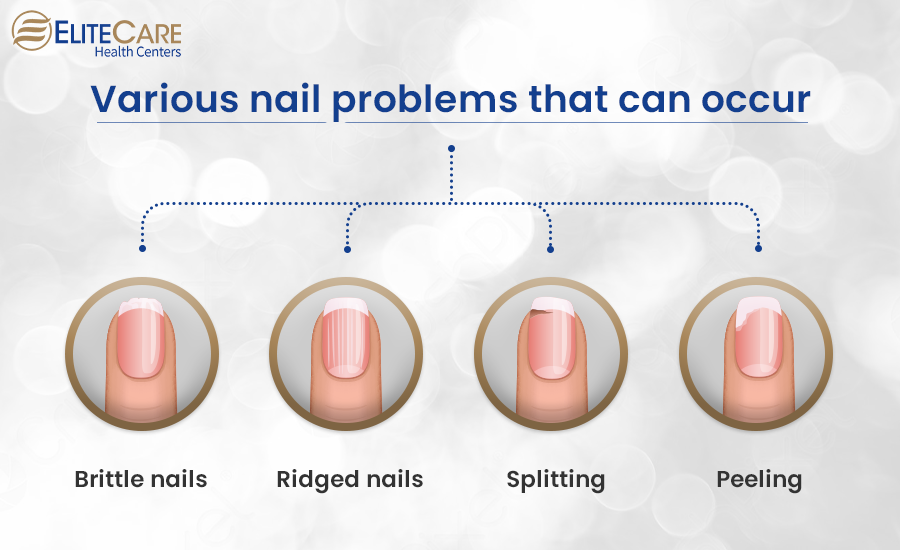 Brittle nails

Ridged nails

Splitting

Peeling
It's crucial to keep in mind that nails will change as you get older. While regular maintenance and nail care can make a huge difference, the change in the appearance of nails is natural and expected. Keeping healthy nails begins with healthy hygiene habits.
Why is it important to take care of nails?
Your nails serve as a protective shield for your hands while you work with them every day. The cuticle acts as a barrier that keeps potential infections away. Regular and quality nail care ensures the following:
Nail strength

Good nail health
What happens when you don't take good care of your nails as you age?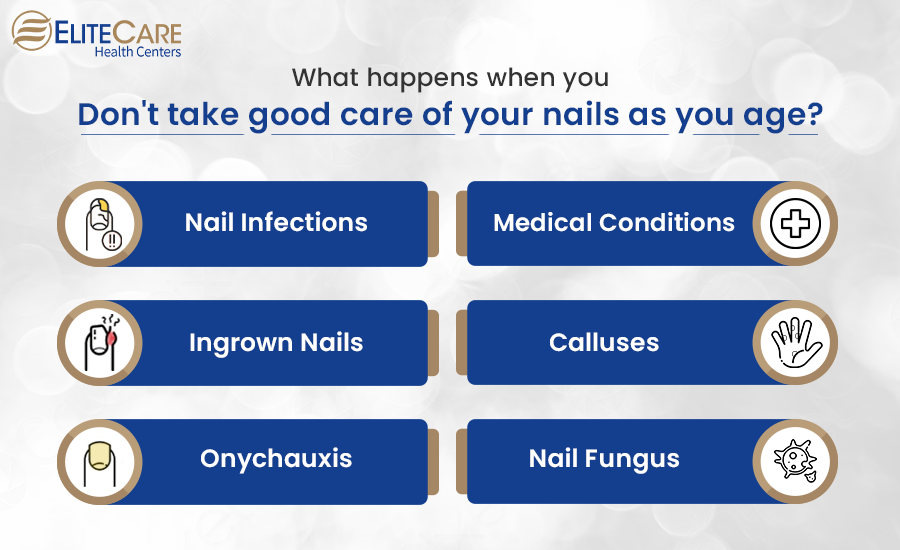 If you don't take good care of your nails, the following can occur:
1. Nail Infections:
Bacteria can easily hide in the nails, and your nails become increasingly prone to infections with age.
2. Medical Conditions:
Medical conditions, like acute paronychia (inflammation of the fingers in one or more of the three nail folds), are frequently the cause of aging nails. This appears to be especially prevalent in women who have diabetes or osteoporosis.
3. Ingrown Nails:
Ingrown nails occur when the corners and edges of one nail grow into the skin around it. Because your nails thicken as you age, this is a regular occurrence in seniors.
4. Calluses:
Calluses form on the skin as a result of frequent friction, rubbing, or irritation.  A person's nails become brittle and hard as they age.  Therefore, calluses on hands form in the areas where there is constant rubbing against the skin due to hard and brittle nails.
5. Onychauxis:
A condition in which the nails become unusually thick. Nail thickening occurs as nails slow down as you become older, causing nail cells to pile up in response. This is a medical term for the thickening or overgrowth of the nail that can become infected and discolored. Dried blood beneath the nail plate is also the cause of red or darkened nails.
6. Nail Fungus:
Many different forms of fungus in the environment can cause fungal nail infections. These infections can occur when the nail or its surrounding areas are damaged.
How can you take proper care of your nails?
The right nail care must include trimming, cleaning, and moisturizing on a regular basis.
Manicures for seniors
are the best and easiest way to ensure quality nail care. Let us understand how:
For seniors suffering from arthritis, diabetes, or osteoporosis, cutting nails on their own can be very painful. Getting a

manicure

is a great way to ease that pain. This is because an experienced nail technician can help them with cutting and shaping nails perfectly.

 

When nails are correctly shaped, they are less likely to get damaged. Rough, sharp, uneven, overgrown nails can cause damage. File and trim your nails every two or three weeks. Depending on how quickly your nails grow, you may need to do this more frequently. Getting a professional manicure guarantees that your nails are perfectly shaped and filed.

 

Because the moisture content of the nails decreases with age, they need to be hydrated in the same way that dry skin is. The elderly should use a hand moisturizer specially made for aged skin. A trained nail technician can provide a relaxing massage with a great quality moisturizer as a part of our Wellness Services:

manicure

s.

 

A manicure also promotes blood circulation in the hands. The manicure treatment includes a relaxing massage that helps boost blood circulation. It helps decrease pain and inflammation. It also helps to improve the mobility of joints.
It would be advisable for seniors to get a manicure from someone specializing in manicure for seniors. For example, for seniors living in Florida, EliteCare Health Centers is a great option with 5 convenient locations in: Pasco, Hernando, Citrus, and Indian River Counties. Within April there will be two more locations opening up as well, one more in Pasco and the other in Pinellas.
EliteCare Health Centers provides primary healthcare, wellness, and dental care services exclusively for older adults. As a part of our Wellness Services we offer our patients manicure services. Experience the EliteCare difference by getting manicure services by trained nail technicians specializing in elderly care. Call 1-888-596-2090 to schedule an appointment. 
Never forget to check if the place you're visiting for manicure services has experience in  providing manicure services for the elderly. Don't just rely on the listing that shows up when you search online for the term 'best manicure near me'. Spend a little time and effort to find the best place for suitable  manicure services. 
Getting a manicure has great physical and mental health advantages. Your hands will look and feel amazing, and your stress levels will decrease. Your nails will be protected from any kind of dirt, debris, fungi, or infections, and your hands will feel good and look great.