One of the biggest changes that seniors may face in their life is the death of a spouse. Losing a partner can take a toll on the senior's emotional as well as physical health. It is important for family members and caregivers to empathize with their loss and be there to help them overcome this challenging period. It is crucial to remember that working through the grieving process is a necessary part of experiencing loss and there's hope for healing. Provide them with assistance and opt for online doctor consultation if required. 


Read More: Importance of Mental Health of Seniors 
How to Help a Senior Grieve?
Getting over the pain of losing a partner and moving on can seem difficult in the beginning. Therefore, it is crucial to engage them in activities that shift their mind. Some of the ways elderly people can get through this difficult time are as follows: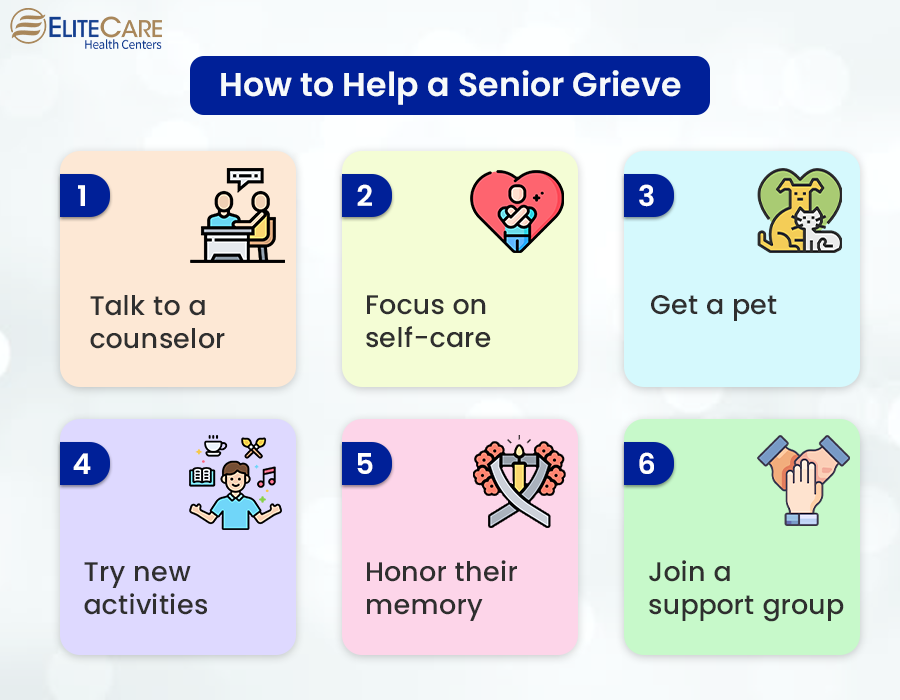 Talk to a qualified mental health counselor
If the senior member of your family isn't particularly vocal about their emotions and has trouble expressing them, talking to a qualified mental health counselor can be of great help. It will not only help them to come to terms with the loss but also provide them with a comfort zone where they can share whatever they feel. Seniors can also avail the advantages of online doctor consultations that will help them get professional help in the comfort of their homes.
  
The counselor will help in finding healthy and safe ways to steer them through the grieving process. They can assign activities depending on the physical and mental condition of seniors. Besides, counseling will also give them an opportunity to understand themselves better. 
Often, mental health becomes the primary concern for both seniors and their family members after the death of a partner. During this period, they may overlook their physical health condition which can turn into a greater concern. Ensure seniors eat right, exercise regularly, get adequate sleep, and take their medications on time.
  
Read More: Can seniors do strength training exercises? 


Encourage seniors to do activities that can divert their minds. Ask them to go for a walk after their meal to get their daily dose of exercise. Remind them to get enough rest to give their mind and body the time to heal. Arrange a warm bath or schedule a manicure or pedicure or any other self-care practice that will make them feel better. Prevent them from excessive drinking or smoking to cope with the stress as it can pose a risk to their health.  
Losing a spouse means dealing with the silence of an empty house, which can be extremely tough to deal with. A pet can be a wonderful companion to combat loneliness and depression during this stressful time. If their lifestyle and health allow them to get a pet, welcome a four-legged friend home. Having a dog as a pet will keep them busy, provide them with company, unconditional love and affection to help channel their feelings. 
The loss of a life partner can disrupt the normal routines of the elderly. Staying busy can help them to get back into the groove of life. Help them to start making time for their hobbies and actively pursue them. If their health condition allows, they can consider volunteering with a local community or a cause. They can also take on a part-time job for a greater sense of fulfillment.   


Assist them if they want to start a book club, grow a kitchen garden, or cook new dishes. Let them do anything that gives them a renewed sense of purpose. It will occupy their empty hours and make them feel less lonely.  


Read More: 7 Habits of Healthy Living 
Whenever you catch your elderly family member feeling down or neglecting their health, ask them if their beloved would've liked to see them suffering. Honor their memory and the life they have lived. Plant a tree of their favorite fruit or herb in the garden or if you have the resources, set up a trust or scholarship in their memory.
  
Ask if they want to volunteer for a cause their spouse deeply cared about. Arrange a get-together to celebrate their life and recall memories over a meal. It will give them a sense of fulfillment and embrace the time they spent together. 


Read More: Top Relaxation Exercise You Can Use Today 
Join grief support groups
Trying to understand what someone else is going through can be difficult. However, similar experiences can help people connect better. Ask them to join a grief support group so that they can connect with others who are also dealing with the loss of a loved one.      
   
Search for grief support groups in your area and get involved in the activities they organize. Whether online or offline, sharing the pain with others who are in the same boat can even help them to make new friends who will help each other to get past the pain of mourning.   
Grief generally eases with time. Give them time to mourn at their own pace and there's no need to rush it. We all deal with loss in different ways. Only time can make them accept the loss and help them move on. If you're looking for effective mental or physical health care from the best primary doctors in Florida, please know that we have some of the best geriatric primary care physicians working on our team. Get personalized care from trained professionals at our center near you. Call +1 888-596-209 to schedule an appointment.  
Tags:

Center For Wellness

death of a spouse

family doctor

florida medical clinic

health and wellness center

health and wellness services

health care center

medical clinic

online doctor consultation

primary care clinic near me

primary care physician

senior care services

wellness care centers​

wellness check doctor