Smartwatches are wrist-worn devices – similar in appearance to a conventional wristwatch but with additional features and functions. Designed to be used as an extension of a smartphone, smartwatches allow users to access various apps and services, including messaging, fitness tracking, and entertainment. Smartwatches typically include a touchscreen display, allowing users to interact directly with the device or use voice commands to control it. It is a convenient and versatile tool that allows users to stay connected and track their health and activities while on the go.  


Different types of smartwatches are available on the market, each with unique features and capabilities. Here are some common types of smartwatches:  


Fitness Trackers – These are designed for tracking your fitness goals. 

Sports Watches – These are designed to track performance in various sports and activities. 

Classic Smartwatches – These are designed to look like traditional watches but with some added features.  

Hybrid Smartwatches – These are a blend of traditional analog watches and smartwatches. 

Fashion Smartwatches – These are designed to look like high-end luxury watches and may come with features like interchangeable bands and customizable watch faces. 

Smartwatch Phone – These are standalone devices with their operating system, allowing users to make calls, send texts and access the internet. 
7 Ways Smartwatches Can Benefit Seniors
Smartwatches can help seniors stay connected and be more independent. Smartwatches for seniors can be a helpful tool in a variety of ways which are as follows:  
Easy Access to Information

– Smartwatches allow seniors to quickly access important information, such as phone numbers, addresses, and emergency contacts, without fumbling through a wallet or purse

to locate a mobile device

.



Medication Reminder

– Some smartwatches have a "medication reminder" feature that can send alerts to remind seniors to take their medication

on time

. This can be helpful for seniors who are taking multiple medications and need to keep track of their doses.


 

Monitoring Vitals and Heart Rate

– Smartwatches can track changes in heart rate, activity levels, and other vitals. These devices can alert seniors and their caregivers or

primary health specialist

s

about

potential health problems before they become

more

serious

.


 

Social Connection –

Smartwatches can help seniors stay connected with loved ones through features like messaging, phone calls, and video calls. This can be especially helpful for seniors who may not be able to leave their homes

due to mobility issues

.



Fall Detection and Emergency Services

–

Smartwatches for seniors

can provide valuable assistance to older adults in times of need. These watches can detect when a senior has fallen and can either automatically or manually trigger an emergency alert to a designated

emergency

contact or a call center. The watch can also detect when the senior has left their home. It will alert the designated contact if they do not return home within a particular time. 


GPS Tracking –

GPS tracking in smartwatches can benefit seniors by providing an enhanced sense of safety and security.

It helps caregivers or family members to keep track of their elderly loved ones and provide them with timely help or assistance if needed.

Additionally, it allows for quick medical assistance if

required

, as medical professionals can use GPS data to locate the wearer.


 

Entertainment

– Smartwatches include a range of features to keep seniors active and engaged, such as access to music, audiobooks, podcasts, and radio channels. Additionally, some smartwatches have gaming and other interactive features that can be used for entertainment.
Features Seniors should look for in a Smartwatch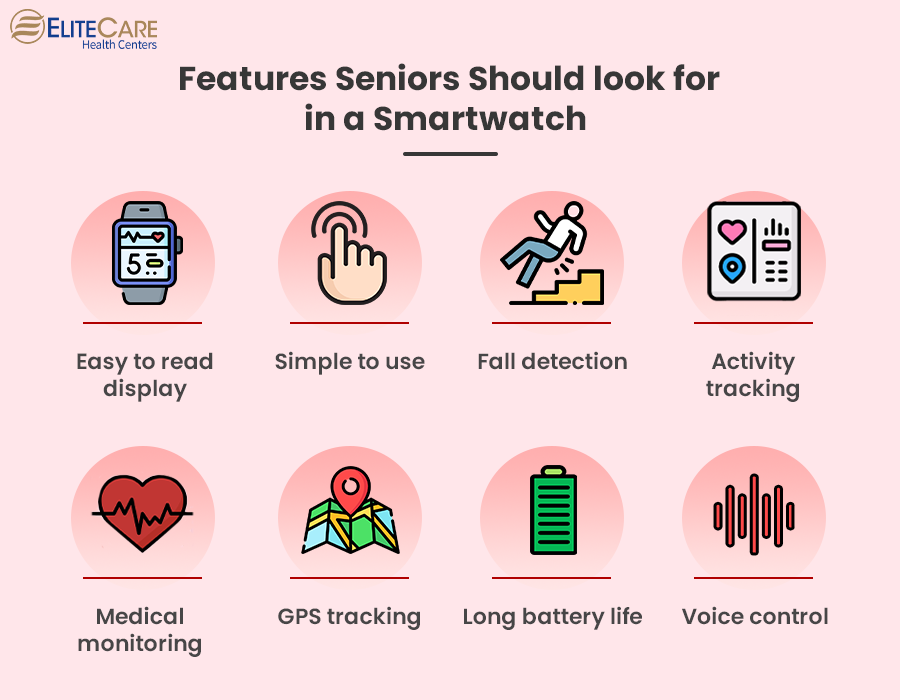 Seniors may look for different features in a smartwatch depending on their individual needs and preferences. For example, some seniors might want a smartwatch that tracks their fitness, while others might prefer one with features that help them stay connected to family and friends.  
However, here are some standard features that seniors may look for in a smartwatch:  
Seniors should look for a smartwatch with a large display that is easy to read and navigate. A large display can help reduce eyestrain, which can be particularly beneficial for seniors with vision problems.  
A smartwatch with a user-friendly interface and clear, easy-to-follow instructions can be simpler for seniors who may be less familiar with technology. 

Look for a smartwatch with an intuitive interface and clear menus that are easy to navigate. 
Fall detection is a must-have smartwatch feature for seniors, as it can alert emergency services if the wearer has fallen and cannot get up. The smartwatch can also track the user's location so they can be easily found. Additionally, some smartwatches are equipped with a panic button that can be used to send an emergency alert. 


Read More: How to prevent seniors from falling?   
Seniors should look for a smartwatch that can track their daily activity, such as steps taken, calories burned, and other health metrics.
The best smartwatch for seniors has medical monitoring features such as heart rate and blood pressure tracking. This can be especially helpful for seniors with chronic medical conditions.  
GPS tracking can help seniors who may have difficulty finding their way home or wander and get lost. 
A smartwatch with a long battery life can be more convenient for seniors who may forget to charge their devices frequently.  
A smartwatch with voice command capabilities allows seniors to make calls easily, send texts, and access other features without manually typing or pressing buttons.  
Smartwatches can be a useful tool for helping seniors stay connected and engaged with the world around them. With features like health and fitness tracking, medication reminders, and social connectivity, smartwatches can help seniors maintain their independence and live healthier, more active lives. Seniors can connect with their primary health specialists through remote monitoring, reminders, alerts, and emergency features. Smartwatches can also provide seniors with an easy way to connect with EliteCare Health Centers doctors through phone. While many different types of smartwatches are available, seniors need to consider their individual needs and preferences when choosing the right device for them. 


Smartwatches also provide seniors with an easy way to contact their health care provider, whether it be through text, phone, or video call. This allows seniors to easily connect with their provider and get advice or assistance if needed.