Have you ever wondered why eating a healthy, nutrient-rich diet becomes more important for elderly people? That's because metabolism slows down as we age. Experiencing a loss of appetite is common among the elderly. Pre-existing health conditions limit the portion sizes and food choices available for them. Hence, meals and diets should be well-balanced to meet the body's nutritional needs, which is why grocery shopping needs to be done keeping in mind prep work for putting together healthy and balanced meals.
Food Shopping Tips for Seniors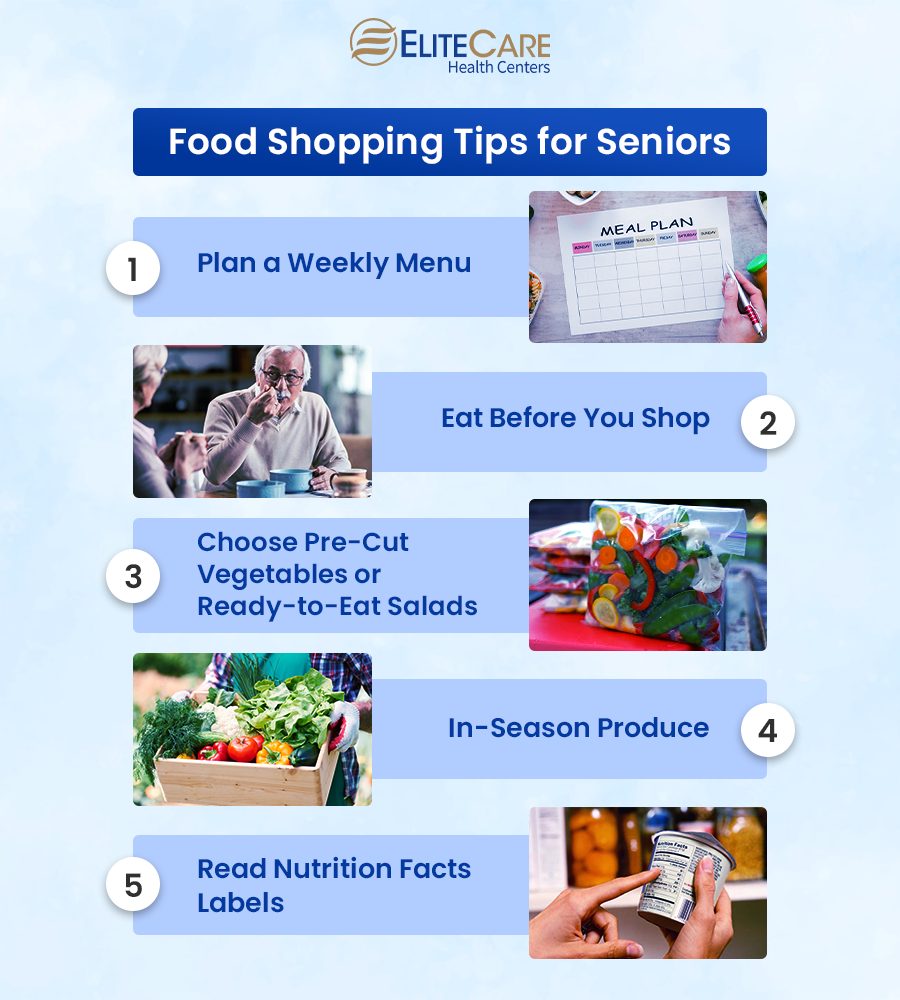 Shopping at grocery stores can sometimes be a challenging experience given the variety of products available. Moreover, colorful packaging, and cleverly worded information on labels make it difficult to distinguish between healthy and unhealthy foods.
Therefore, to simplify and ensure grocery shopping experience that's best for healthy meal prep here are some proven shopping tips to follow:
Instead of making a standard shopping list, prepare a weekly meal plan based on your requirements. Visit the supermarket and pick up the ingredients required to prepare the meals for the week ahead. By planning your weekly shopping list in this way, you ensure that you buy only what is required for the week, rather than purchasing extras. It will save both time and money as well.
One of the biggest reasons behind unhealthy eating is impulse grocery shopping. Grocery shoppers are more likely to add unhealthy snacks and convenience foods, packed juices etc., to their baskets when they visit supermarkets on an empty stomach. Eating a small meal before going shopping reduces the likelihood of unnecessary purchases and encourages the buying of nutritious foods.
3. Choose Pre-Cut Vegetables or Ready-to-Eat Salads
Since chopping up and preparing fresh fruits and vegetables takes time, older adults often avoid purchasing them. Buy pre-cut fruits and vegetables to add more fruits and vegetables to your diet. Pre-cut fruits are safe for consumption as long as they are fresh and well-packaged. It also reduces the risks of injuries seniors can get while chopping them up. Any ready-to-eat salads should have a light dressing on the side – to keep things light and nutritious.
In-season produce is always the best choice. Since these are freshly harvested, they are enriched with flavors and add more nutritional value to your diet. Furthermore, fresh, in-season produce is more affordable than off-season products.
Always choose to buy locally grown seasonal produce from farmers' markets and support local businesses as well.
5. Read Nutrition Facts Labels
It doesn't matter what foods you think are healthy. Nutrient content and ingredients can differ greatly from what you expect. So, whenever you are surrounded by multiple options, always compare their labels.
Choose the item with the least amount of salt, saturated fat, and added sugars.

Find products that are labeled "Heart-Check", which indicates that they meet nutritional requirements for heart-healthy meals.

Avoid items that contain sugar, refined grains, or highly processed oils.

When shopping for foods that have some added sugar, such as granola or cereal, choose options with less than 6 grammes (1.5 teaspoons) of added sugar per serving.
Grocery Cart Must-Haves for Healthy Meal Prep
A well-balanced diet should consist mostly of whole, nutrient-dense foods. Choose colorful fruits and vegetables, foods that contain protein, and superfoods such as nuts, seeds, and berries for healthy meal prep.
Here is a list of nutrient-rich foods you may consider while shopping for groceries for healthy meals.
Non-starchy vegetables:

cauliflower, garlic, bell peppers, greens, leeks, asparagus, sweet peppers, broccoli, onions, and mushrooms

Lean Protein:

fish, chicken, eggs and ground turkey

Starchy vegetables:

sweet potatoes, winter squash and potatoes

Grains and legumes:

oats, brown rice, dried black beans, barley, buckwheat, red lentils, and farro

Fruits:

oranges, bananas, apples, grapefruit, lemons, and avocados

Oils and condiments:

olive oil, avocado oil, apple cider vinegar, balsamic vinegar, honey, and maple syrup

Dairy and nondairy products:

full fat Greek yogurt, cheddar cheese, cashew milk, and coconut yogurt

Snack foods:

dark chocolate chips, unsweetened dried fruit, and hummus

Frozen foods:

frozen raspberries, Ezekiel bread, frozen shrimp and frozen kale

Beverages:

unsweetened seltzer, ground coffee and herbal tea bags
To prepare a well-balanced diet, it is important to incorporate meals that are both delicious and nutritious. Make sure to keep your food preferences and medical conditions in mind while grocery shopping.
Having good eating habits can help the elderly manage a lot of the health problems that otherwise come with aging.
Contact our team to get the best health and wellness services at EliteCare to receive personalized guidance if you need a healthy and personalized diet plan centered on your specific health needs.